Jump To Recipe
Just because fall is in full swing doesn't mean smoothies are off limits! The key to enjoying smoothies year-round is to make smoothie recipes that include seasonal fruits and vegetables and spices. I'm known to add frozen pumpkin cubes, carrots, and even the occasional avocado into my protein shakes. We won't go there today, but we will go in another surprising direction – enjoying cocoa to burn fat!
If you're thinking it's too good to be true, keep reading. The recipe I'm sharing today is packed with superfoods that will help you slim down, and it tastes amazing! Add any ingredients you don't have to your next shopping list because this is one recipe you do not want to delay making.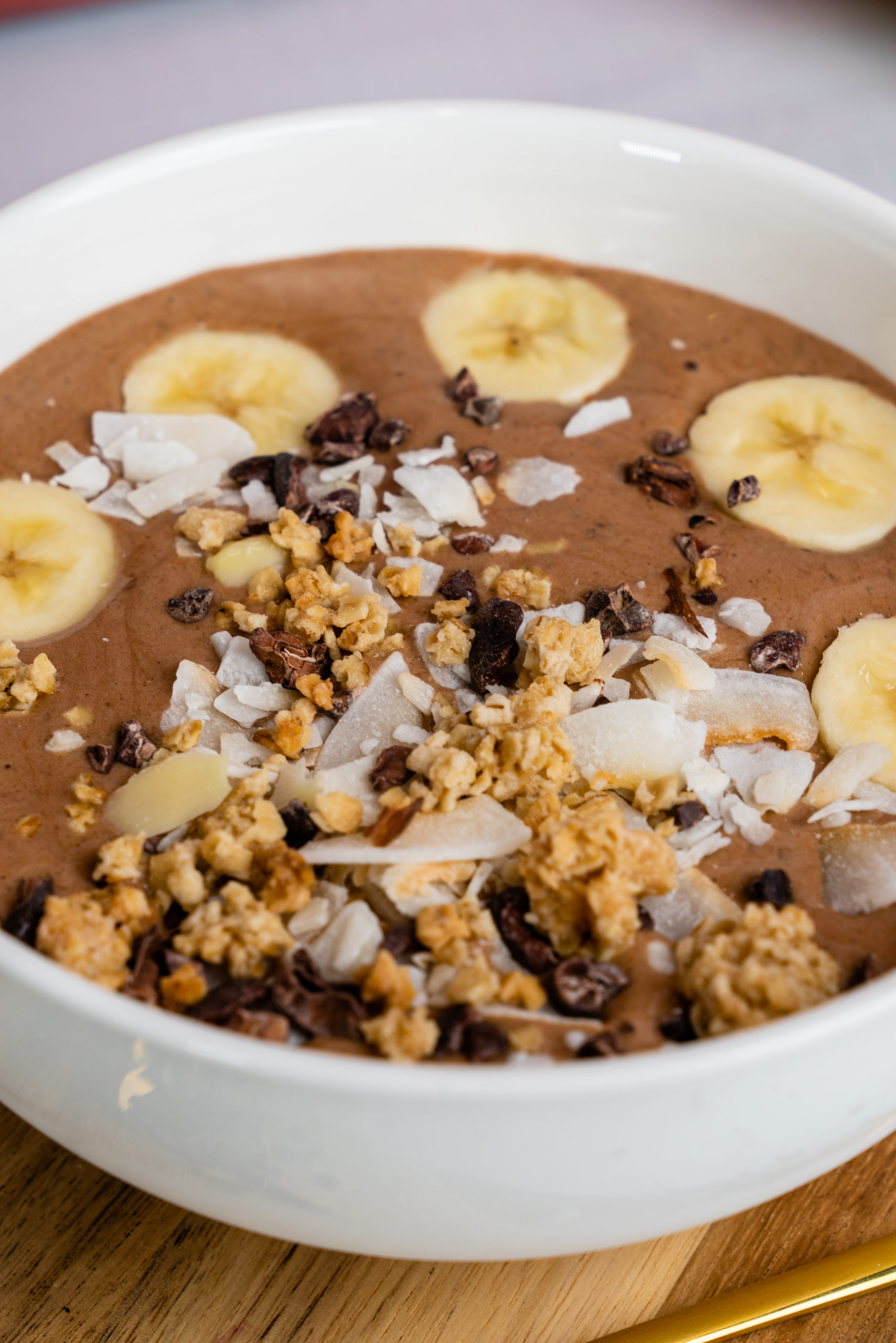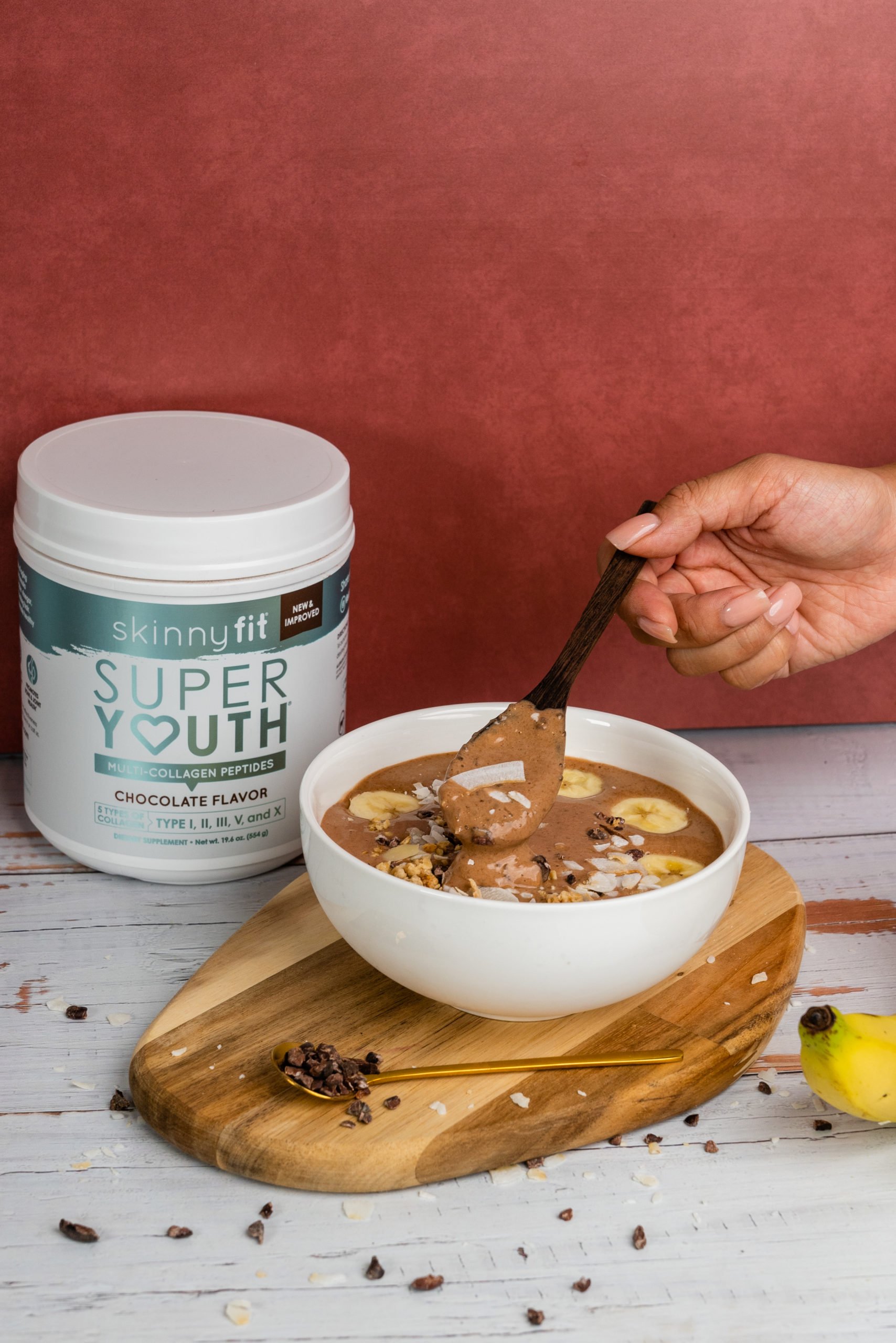 Chocolate Collagen? Yes Please!
I know a lot of the recipes I share use Super Youth Unflavored collagen peptides, so we need to take a special moment to talk about the Chocolate flavor. It's unlike any other chocolate-flavored protein I've ever had. It's rich, it's smooth, and it's the perfect amount of sweet. The best part? In addition to its delicious flavor, it still contains 14 grams of protein. Plus, unlike most collagen peptides, Super Youth Chocolate includes hyaluronic acid, apple cider vinegar, and vitamin C. You can add it to so many different smoothie recipes, even other recipes like oats, baked goods, even coffee. 
It gets better, though.
Super Youth includes five different types of collagen. This is why you'll see more and better results from Super Youth than other collagen products. The five unique types are important because they each address a specific part of the body. For example, type I helps improve hair, skin, and nail health. Type III supports our gut and organs, and type X supports bone formation. It truly is the holy grail of collagens, and I can't wait for you to try it in this recipe.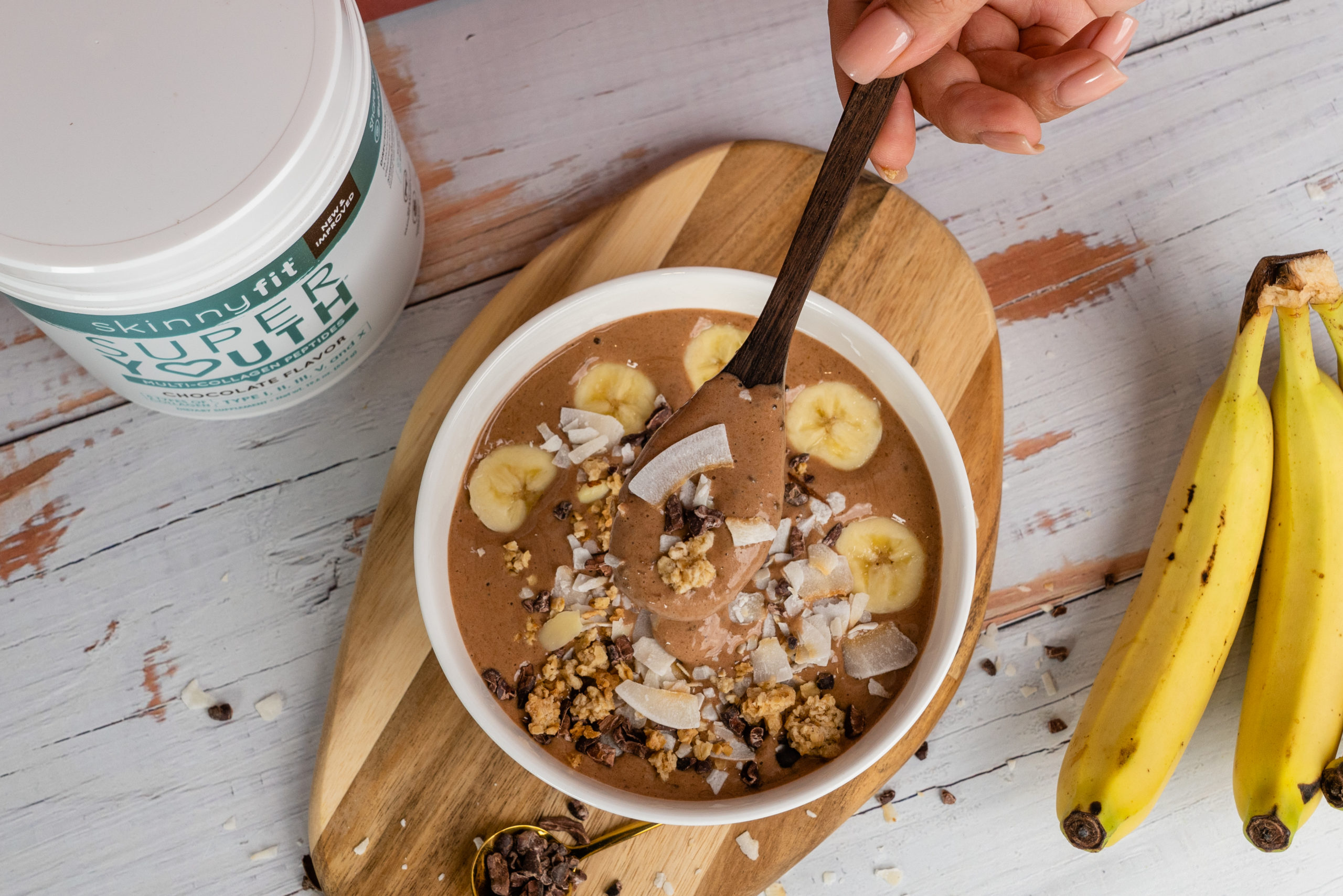 Burn Belly Fat & Slim Down With Cocoa!
Cocoa is so much more than a cravable flavor. Cocoa actually helps support weight loss, can you believe it! Thanks to its mitochondrial biogenesis, cocoa may be useful in trying to trim down belly fat. [1] Plus, its mood-boosting effects and antioxidant properties can help reduce inflammation. [2] This means adding cocoa to smoothie recipes not only helps you lose fat but can also play a role in reducing bloat.
Mentioned In This Post
SkinnyFit Chocolate Collagen
Look and feel younger with Super Youth Chocolate collagen! This scrumptious collagen powder includes 5 collagen types from 4 natural sources to restore youthfulness from the inside out.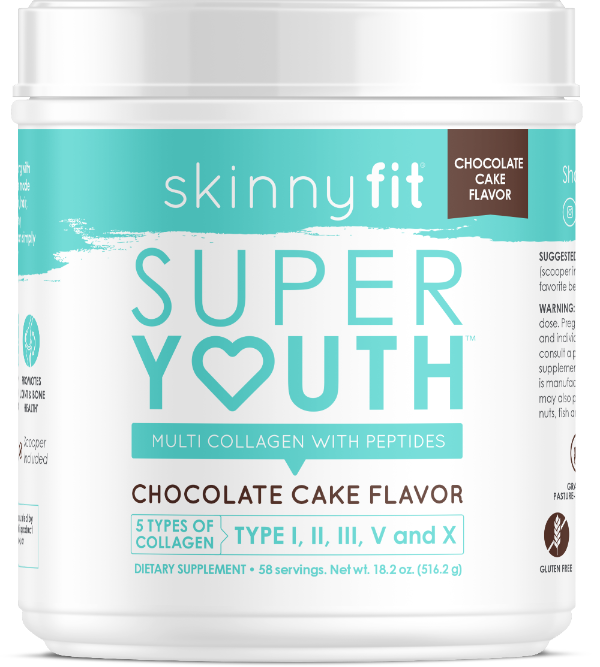 Slimming Cocoa Chia Smoothie Bowl
What are you waiting for? You need to try this slimming smoothie bowl!
Prep Time: 10 minutes
Cook Time:
Total Time: 10 minutes
Serving Size: 1 bowl
Ingredients
1 tbsp whole chia seeds
1 tbsp raw cocoa powder
1 scoop SY Chocolate
3 tbsp unsweetened almond milk
1 medium frozen banana
1/2 cup frozen papaya (or use more bananas if you prefer)
5 ice cubes
All of the cocoa chia pudding
1 1/2 tablespoons pumpkin seed protein powder
1/2 cup unsweetened almond milk
Sliced banana
1 tbsp raw cocoa nibs
1/2 tbsp shredded unsweetened coconut
1 tbsp grain free or regular granola
Steps
Prepare the chocolate chia pudding by adding the chia pudding ingredients to a small bowl or glass, stirring until well combined and letting sit for 5-10 minutes
Add all smoothie ingredients to a blender and blend until thick and creamy (high powered blender is best)
Add the blended smoothie to a bowl and top with your chosen toppings
Enjoy!