Jump To Recipe
If you thought reaching your weight loss goals was going to include plain grilled chicken and broccoli, think again! The best way to maintain a healthy nutrition and fitness routine is to make it enjoyable. What a concept, right?! 
For me, having a rotating list of smoothie recipes has helped me stay motivated and excited about my health journey. When I first started diving into good-for-you foods, there were so many people promoting disciplined eating – protein without any spices or sauces, boiled vegetables, and minimal fruit. After a few weeks of misery, I knew there had to be another way.
Sure enough, there is. I found that breakfast smoothies for weight loss were a big hit. They filled me up, satisfied my tastebuds, and made it easy for me to stay on track with my goals. Today I'm sharing one of the first smoothie recipes that got me hooked – my Slimming Peach Mango smoothie.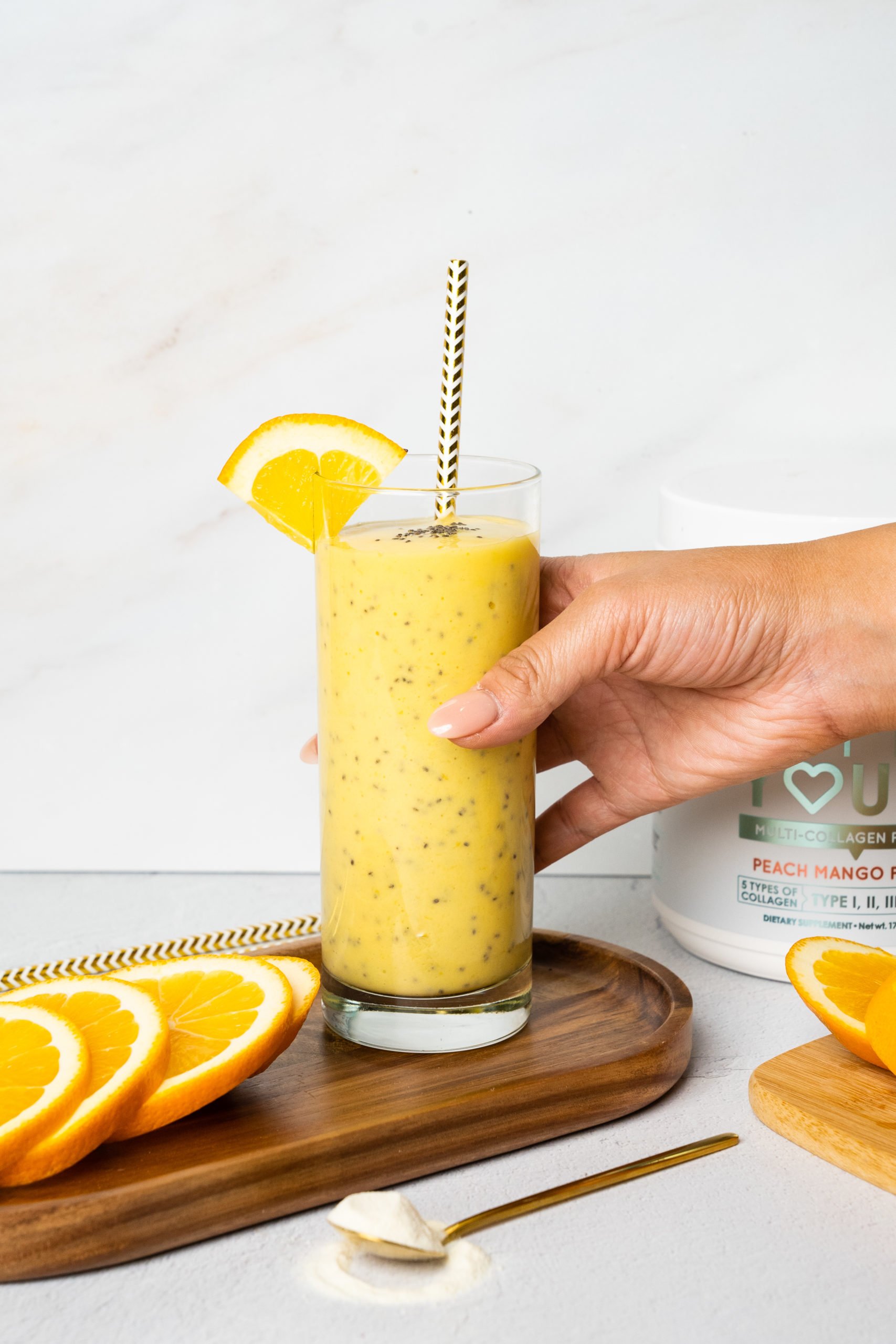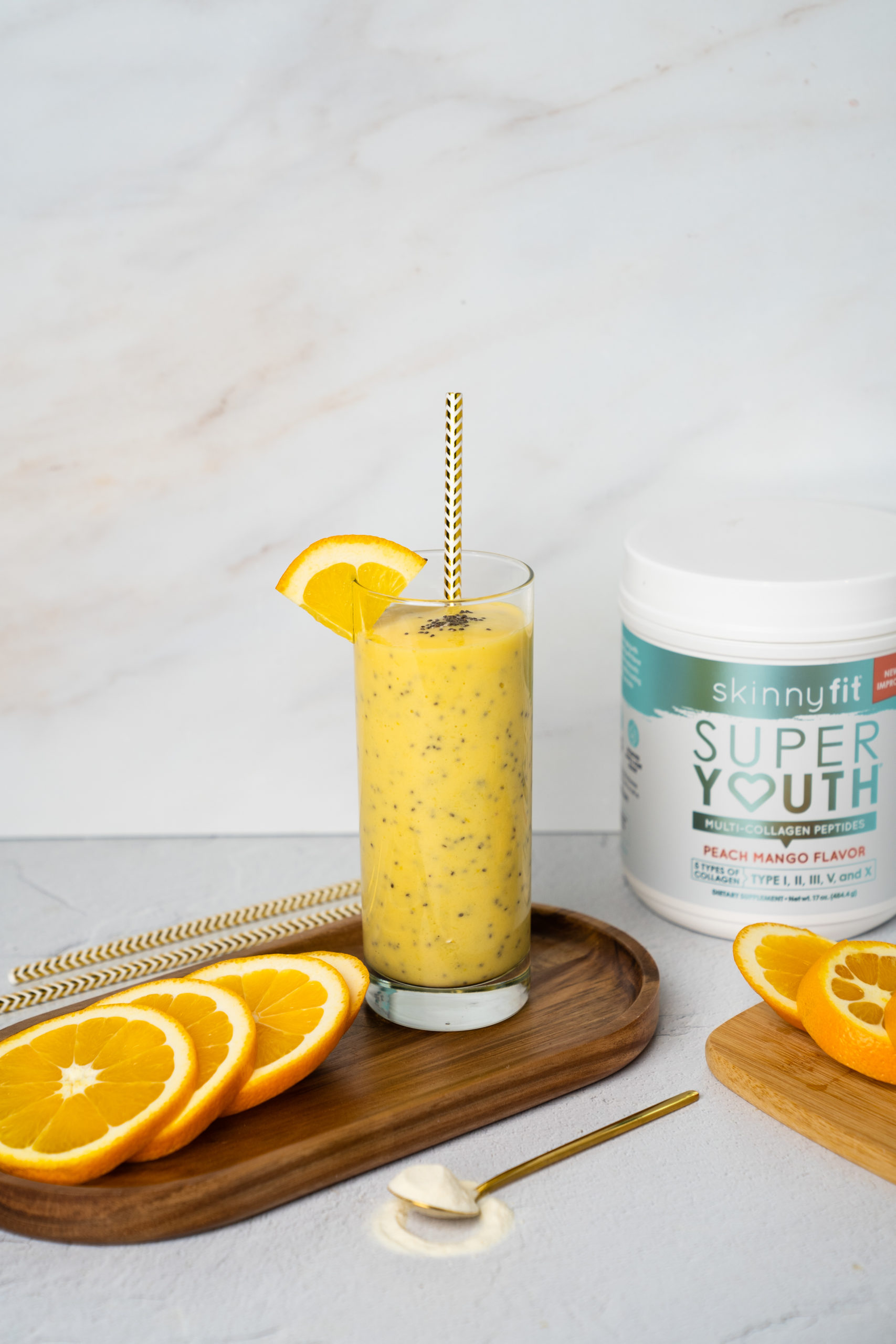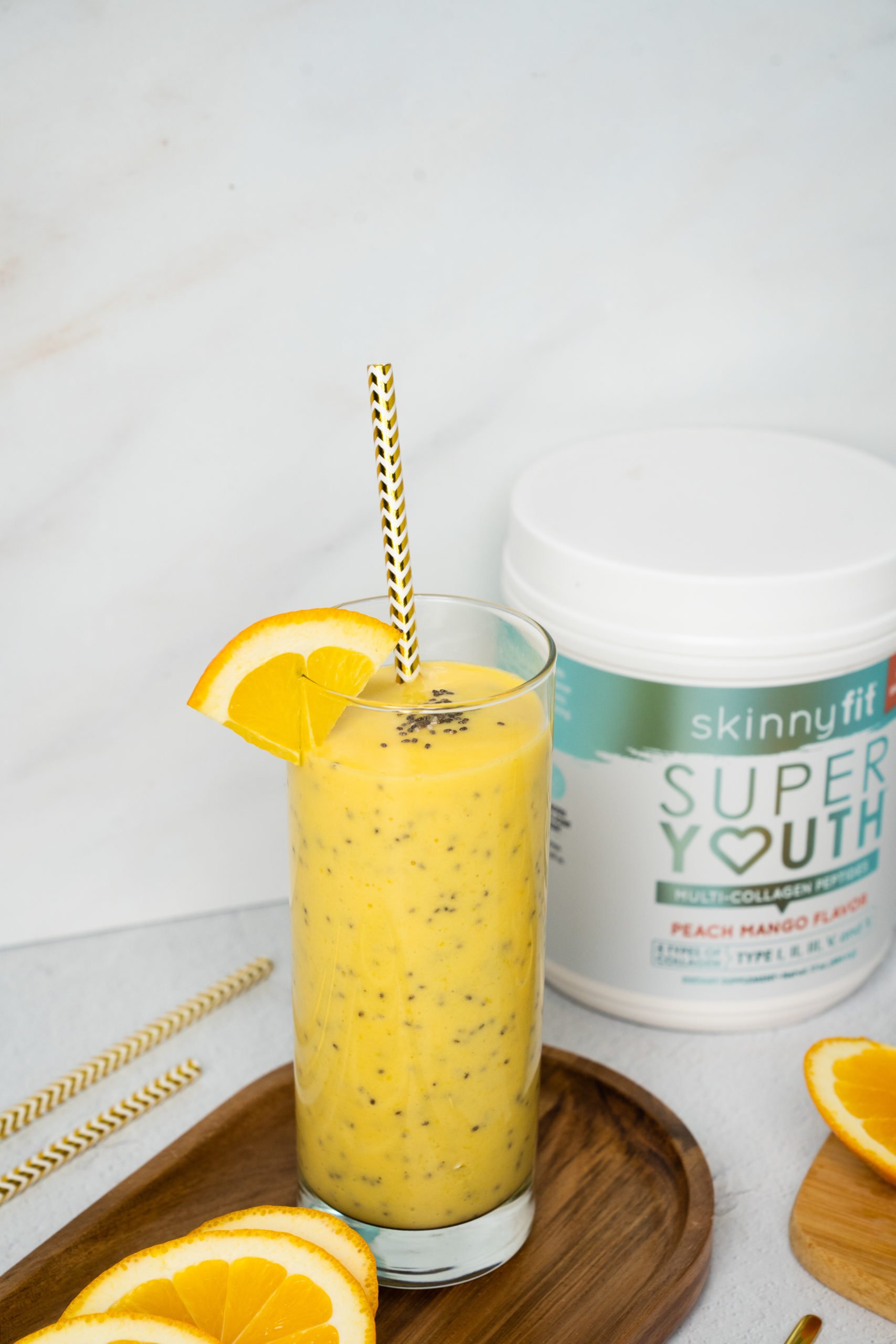 Jumpstart Your Day (& Your Metabolism) With This Healthy Smoothie!
I love breakfast smoothies for weight loss because you can pack in so many ingredients like protein powder, metabolism-boosting adaptogens, veggies, and more. One of the highlights of this Slimming Peach Mango smoothie is the Super Youth collagen because it covers so many bases. 
First off, this single ingredient contains 14 grams of protein per serving. Starting your day with a protein-rich breakfast helps you feel full for longer, reduce sugar cravings, and keep your energy steady. Next, collagen contains skin- and bone-healthy properties. What better way to start your day than with a beauty boost? I've noticed my skin appears brighter and tighter, and I experience less joint pain in the mornings when I consistently take Super Youth. Lastly, the Peach Mango Super Youth is a great way to add a burst of flavor to your smoothie recipes without adding any sugar or artificial sweeteners.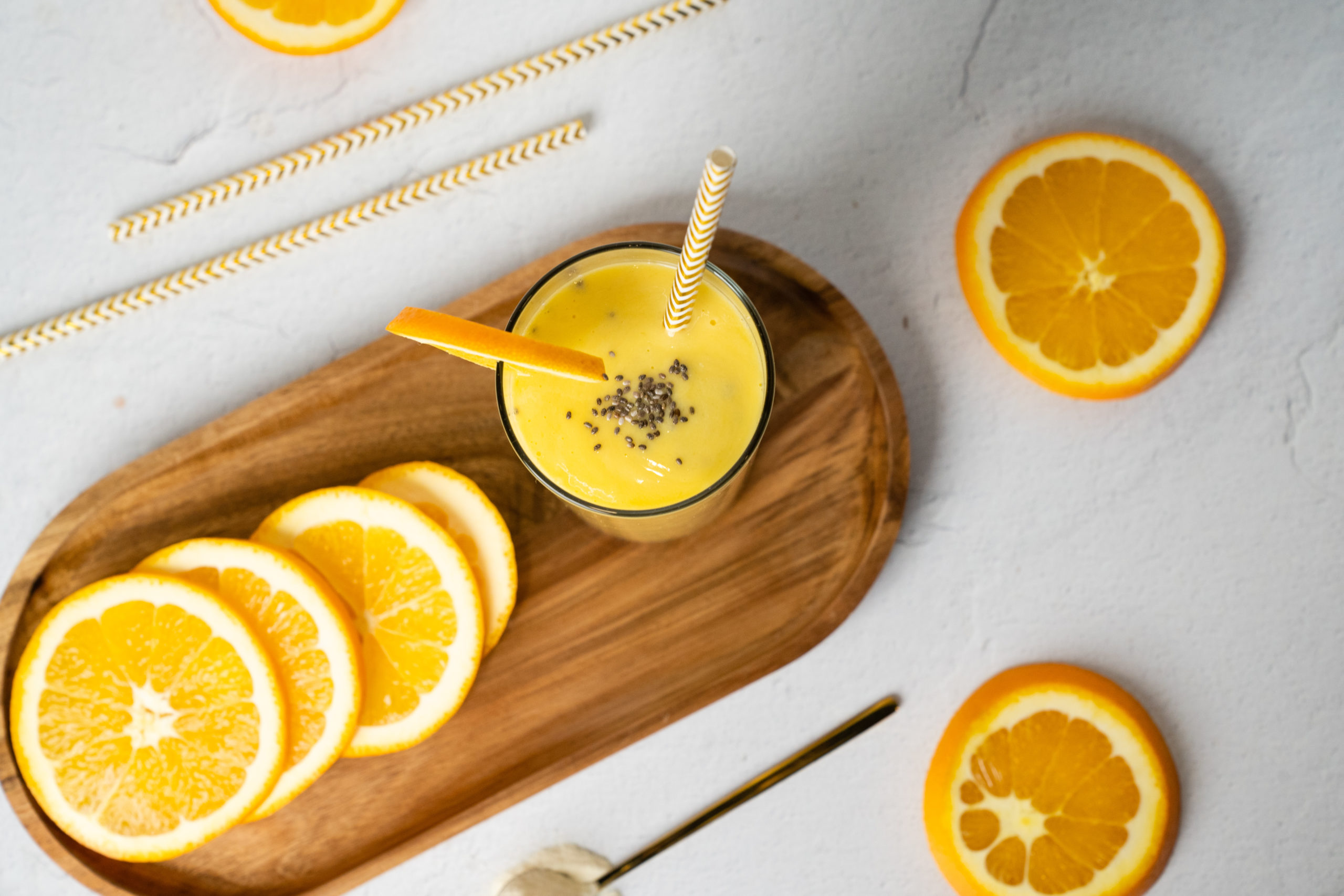 I guarantee smoothies will change the game for you and your weight loss goals this year. Start with this Slimming Peach Mango smoothie and let me know if you love it!
Mentioned In This Post
SkinnyFit Peach Mango Collagen
Look and feel younger with Super Youth Peach Mango! This fruity collagen powder includes 5 collagen types from 4 natural sources to restore youthfulness from the inside out.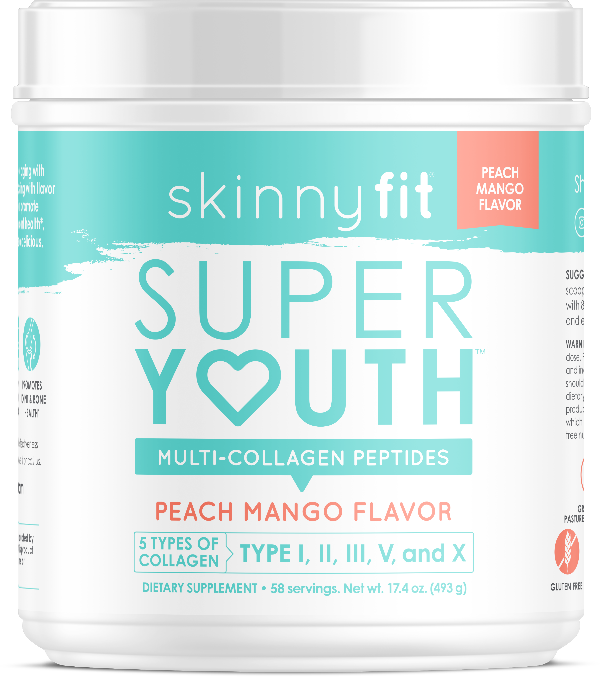 Slimming Peach Mango Smoothie
Prep Time: 10 minutes
Cook Time: 0 minutes
Total Time: 10 minutes
Serving Size: 1 serving
Ingredients
1/2 cup unsweetened almond milk
1 scoop SY Peach Mango
¼ cup plain Greek yogurt (or dairy free yogurt)
⅛ cup fresh orange juice
1 cup fresh or frozen mango chunks
1 tbsp chia seeds
Orange & mango slices to garnish
Steps
Add the almost mink, greek yogurt, orange juice, peach, mango, chia seeds, and Super Youth to the blender. Add 1 cup of ice if not using frozen fruit
Cover and blend until preferred consistency