Jump To Recipe
If you like snickerdoodle cookies, then you'll LOVE this delicious snickerdoodle cocktail! It has all the best elements of the popular cookie, but with a boozy twist!
Snickerdoodle cookies were my favorite sweet treat growing up. As I've gotten older, I've found that cookie flavored cocktails are even better! Plus, I've found that I'm a much better drinker than I am a baker. I first had the idea to make a snickerdoodle cocktail after having a snickerdoodle latte at my favorite coffee shop. Despite its delicious flavor, I happened to order it on one of those days where everything goes wrong. I couldn't help but wish I had some schnapps to add to my latte, and realized that it would make an awesome dessert martini. Sure enough, I went home that night and got to work. It took a few tries, but it was worth it. 
This dessert cocktail easily makes its way to my top three favorite cocktails. And not just for taste. I snuck in some Super Youth collagen to make it the healthiest, tastiest dessert cocktail of all time. You won't believe it until you try it, so grab these five simple ingredients and get snickerdoodle shaking! 

What Is A Snickerdoodle?!
A snickerdoodle is a type of cookie. It resembles a sugar cookie, but is then rolled in cinnamon sugar before baking. What you end up with is a delicious, fluffy, buttery cookie that has the spice of cinnamon, balanced with the sweetness of sugar. They're amazing. Nowadays, you can find snickerdoodle flavored everything. I've seen them pop up as snickerdoodle lattes, now this snickerdoodle cocktail, a snickerdoodle pie, and more.
How To Make A Snickerdoodle Cocktail
What I love about making dessert martini recipes is that they're usually pretty simple for how delicious they taste. For this dessert cocktail in particular, my beloved snickerdoodle cocktail, you just need five main ingredients and two for garnish. First, grab your cocktail shaker and add some ice. Then, pour in vanilla vodka, half and half, amaretto, cinnamon schnapps, a scoop of Super Youth collagen (Unflavored), and shake well until your hands get cold. Strain the mixture into your favorite chilled martini glass (this is a dessert martini, after all!) and garnish with cinnamon. If you're really going for the money shot on this one, add a star anise for bonus points. Whether you pour it into a solo cup or forget the garnish, though, this is the one dessert cocktail you will be making again and again.
How To Make It A Healthy Dessert Cocktail
Some people would argue that there's no way to make a healthy dessert cocktail. The only way I know they're wrong is because I did it! That's right, this snickerdoodle cocktail is made with anti-aging, bone healthy collagen. The best part about it is you never taste it at all. That's why I love Super Youth. It dissolves easily (unlike most collagen products) and it doesn't change the texture or flavor of your drink at all. Collagen is packed with protein that helps rebuild cells. This can mean less wrinkles, stronger hair and nails, brighter skin, reduced joint pain, and more! Allllll of those benefits are packed into this delicious snickerdoodle cocktail recipe! Give it a try, I know it will not disappoint.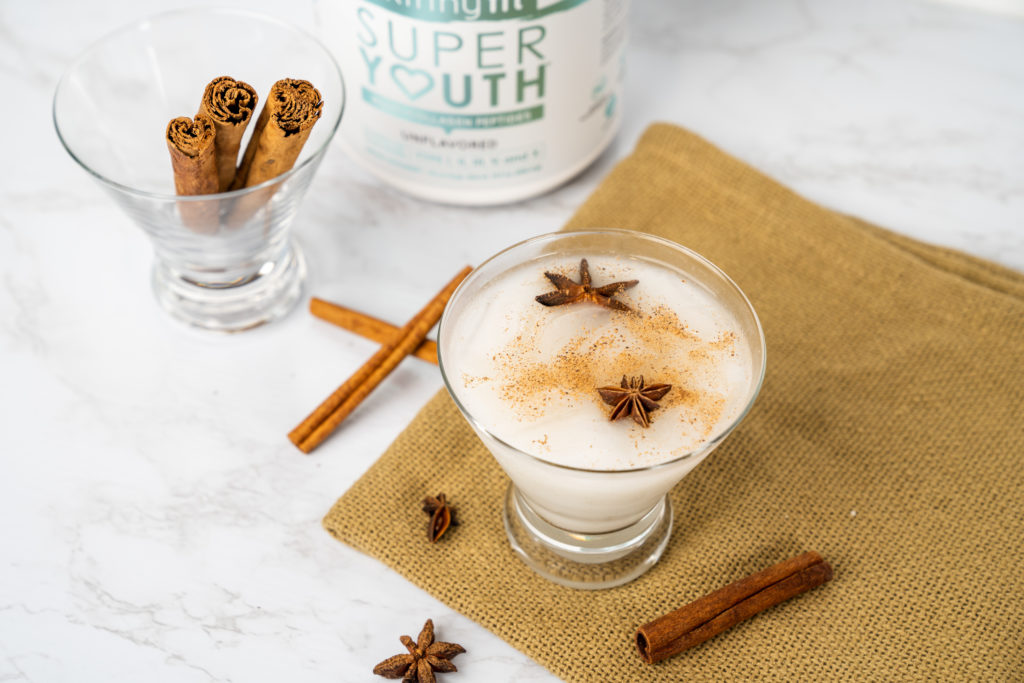 Snickerdoodle Cocktail!
If you like snickerdoodle cookies, then you'll LOVE this delicious snickerdoodle cocktail! It has all the best elements of the popular cookie, but with a boozy twist!
Prep Time: 5 min
Cook Time: 0
Total Time: 5 min
Serving Size: 2 cocktails
Ingredients
4 ounces vanilla vodka
4 ounces half and half
2 ounce amaretto
1 ounce cinnamon schnapps
1 scoop Super Youth, Unflavored
Cinnamon for garnish
Star of anise for garnish
Steps
In a cocktail shaker, add ice and all the ingredients. Shake well until the shaker becomes very cold in your hand. Strain into a chilled martini glass and garnish with a little cinnamon sprinkled on top. Add a star of anise if desired.