Jump To Recipe
Spiced apple cider and cold weather—talk about a match made in heaven. Spiced hot apple cider is the perfect drink to sip on during the fall and winter months for many reasons. For starters, it warms you up from the inside out. Every sip is like cozying up in a big fuzzy blanket. Secondly, if autumn had a "flavor" it would definitely be spiced apples. I know some of you are Team Pumpkin Spice this time of year, but a classic flavor like spiced apples can stand the test of time. But today, I'm recreating the traditional spiced cider and giving it a modern twist… and a spike. 😉
This super-simple spiked apple cider recipe will not only warm your tummy but will flatten it too! Keep reading to learn my secret ingredient…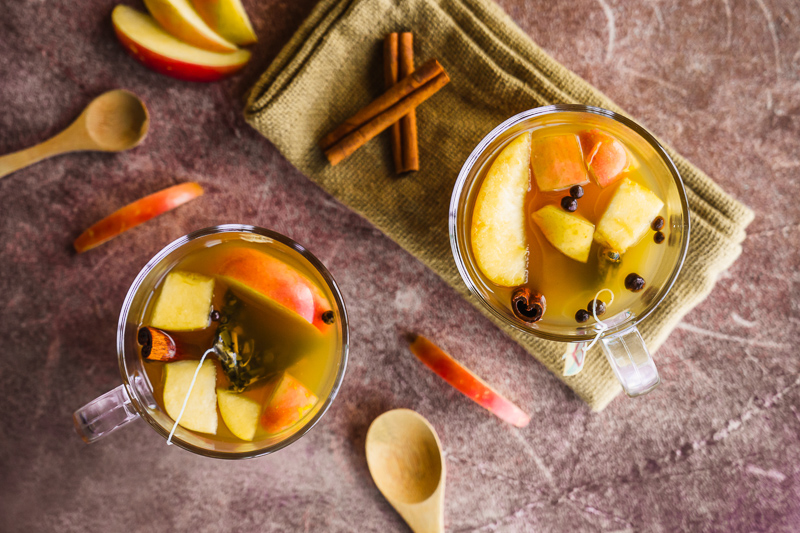 What's In Spiced Apple Cider?
Studies show that we tend to eat more during the winter months compared to other times of the year. And when it comes to the holiday season, we tend to eat more sweets than usual, too. But this recipe isn't your typical spiced cider recipe. Not only does it contain a variety of delicious fruits and spices to satisfy your sweet tooth, but it also contains a powerful ingredient that keeps excess bloating at bay. Here's what's inside…
Apple cider—Okay, I have to admit, this recipe isn't exactly a homemade apple cider recipe. You can certainly make your apple cider for this recipe from scratch, but one of the goals when creating this particular recipe was to make it as simple as possible to make. I used a store-bought spiced cider. One of the benefits of using a pre-made spiced cider is finding one that has lower sugar content. This way, you aren't going overboard on the sweetener. 
Spices—You can't have a spiced apple cider recipe without the spices, right? This recipe is full of delicious fall spices like cinnamon, allspice, and ginger! 
Citrus fruit—One thing that makes this apple cider recipe unique is adding real fruit chunks. I used freshly sliced oranges to balance out the spice. 
Detox tea—You know that secret ingredient I mentioned earlier? Well, it's SkinnyFit Detox tea. Detox tea contains 12 powerful superfoods that reduce bloating and boost your metabolism (along with a ton of other health benefits). It also has a delightful peach flavor that compliments the apple cider perfectly. 
Booze—Every once in a while, spiking your favorite drink is like taking a walk on the wild side. It's just enough of a change to pull you out of your normal routine to keep things interesting! Of course, this is completely optional and isn't crucial to the recipe, so feel free to leave out to booze if you prefer. 
What Alcohol Is Good With Apple Cider?

Spiced cider is all about the spices, for obvious reasons. So, what type of alcohol pairs best with a spiced apple cider that won't overpower the flavor but still gives it a bit of a kick? Here is a shortlist of different types of alcohol that compliment the flavors of a spiced cider:
Spiced rum
Bourbon/Rye whiskey
Cognac
Moonshine
Scotch
For this particular spiked apple cider recipe, I used spiced rum. Feel free to change it up to your liking! 
How To Make Spiked Apple Cider

Remember how I told you that this spiked apple cider recipe was super simple to make? Well, I wasn't joking! Here's how to make a spiced cider…
Step 1: Place a large pot with 2 cups of water on the stovetop on medium-high heat. Once the water is boiling, add 2 teabags of SkinnyFit Detox and allow it to brew for 5-7 minutes.
Step 2: While the tea is brewing, slice your oranges and apples. Return the pot to the stove and add the remaining ingredients. 
Step 3: Simmer for 10-15 minutes. Once you're ready to serve, add the spiced rum and top with the sliced fruit! 
READ NEXT: How To Make The Best Cinnamon Hibiscus Tea For Fall!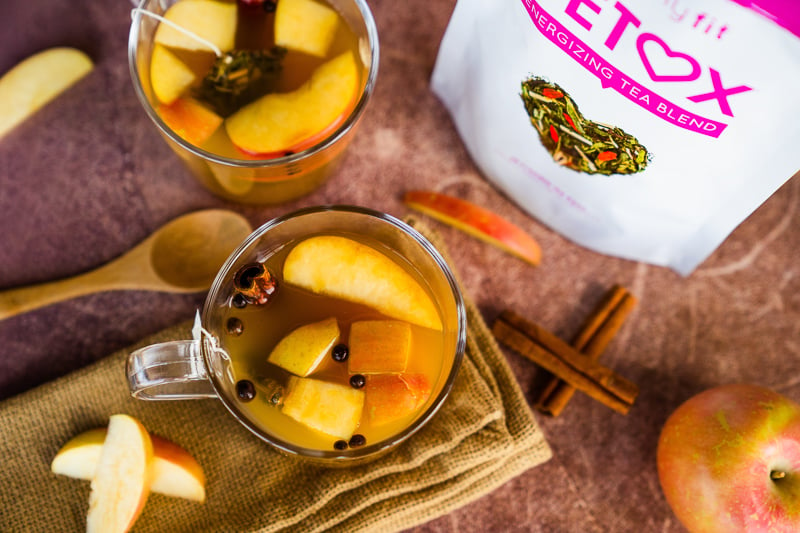 Spiked Apple Cider Recipe
Cozy up with this spiced & spiked apple cider recipe! It will not only warm your tummy on a chilly autumn evening but will flatten it too! Keep reading to discover the secret ingredient…
Prep Time: 5 minutes
Cook Time: 15 minutes
Total Time: 20 minutes
Serving Size: 6 servings
Ingredients
4 cups apple cider
2 cups SkinnyFit Detox, brewed
1 apple, cut into slices
1 orange, cut into slices
3 cinnamon sticks
2 slices fresh ginger
1 teaspoon whole allspice
1.5 oz. spiced rum for every 1 cup of cider (optional)
Steps
Add 2 cups of water to a pot and bring to boil. Once the water is boiling, remove from heat and brew 2 teabags of SkinnyFit Detox for 5-7 minutes.
Once brewed, remove the teabags and return the pot to the stovetop over medium-high heat. Add the remaining ingredients and bring to a low boil.
Reduce the heat to low-medium and let it simmer for 10-15 minutes. Serve hot.
Total Calories:
Carbs:
Fats:
Protein:
Sugar:
Fiber: