Jump To Recipe
Summertime and the living's easy. Whenever I think of summer I always think of warm sunsets, the sound of crickets hiding in the brush, and an ice-cold beverage with little beads of condensation running down the side of the glass. So much nostalgia, am I right? And hot summer days and ice-cold beverages are, in fact, the perfect pair. They go together like old guys and park benches… Bob Ross and happy little trees… or spam emails and my grandma opening them. ‍🤦‍♀️
With all the memory-filled summers you've experienced in the past, this summer you'll be sure to remember cooling down and detoxifying with a drink fit for a mermaid 🌊… spirulina mermaid lemonade to be exact!  But what is mermaid lemonade or spirulina for that matter?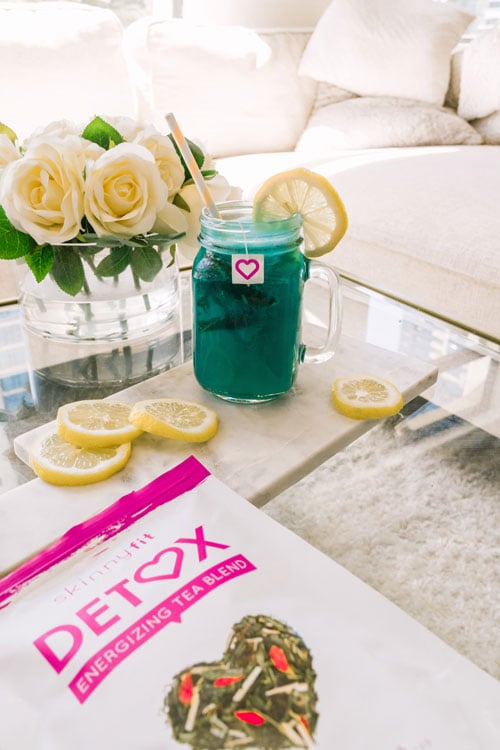 What Is Spirulina Detox Lemonade?
Well, spirulina is a type of natural algae superfood. Pure spirulina is packed with protein and an incredible source of antioxidants, B-Vitamins, essential amino acids, iron, and chlorophyll! Chlorophyll is what gives spirulina it's vibrant green color, and is also responsible for making all plants green. If you find yourself wondering 'what does spirulina taste like?' – It doesn't have much flavor on it's own… but that's where this recipe comes in.

Another benefit is that Chlorophyll found in spirulina helps remove toxins from the blood and boosts the immune system. It has the ability to bind with heavy metals in the body and help remove them. In fact, one study found that 500 milligrams of spirulina daily combined with zinc supplementation was enough to reduce arsenic toxicity by almost half [1]!
Combining spirulina with SkinnyFit Detox, however, will boost the detoxifying benefits even more! SkinnyFit Detox is a blend of 13 natural superfoods that will help you reduce water weight, and belly bloat, and boost your metabolism helping to accelerate your weight loss.
What's even better is the light and refreshing peachy flavor of the Detox pairs perfectly with lemons making this spirulina lemonade irresistible on a hot day.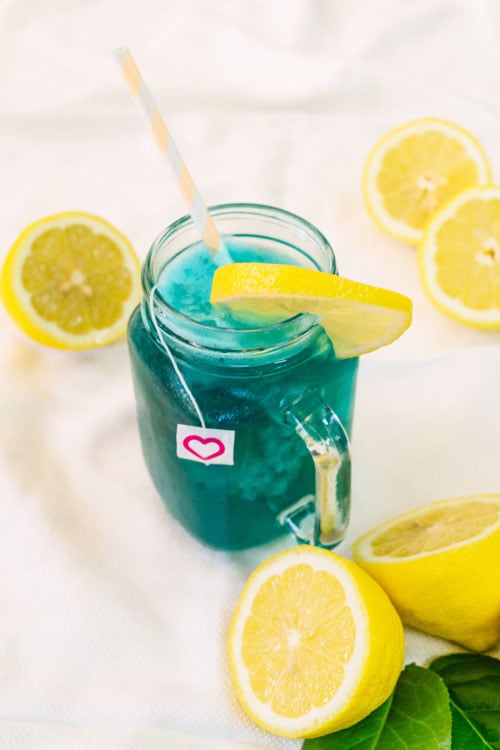 How To Make The Mermaid Lemonade Spirulina Detox
If you've heard of the health benefits already but wondered how to eat spirulina power… our spirulina detox lemonade recipe takes just a couple of minutes to prepare, but trust me, you'll be sippin' on it allllllllll day because it's just THAT good.
A few notes: the color of spirulina is VERY potent when adding it to liquid. You don't need much, ⅛ of a teaspoon should be plenty, but depending on how vibrant you want your mermaid lemonade you can add more or less. But word to the wise… it's better to add less and then slowly add until you've reached the level of saturation you're looking for.  
In this particular recipe we used a liquid form of spirulina but a powdered version will do just fine. You can find spirulina at most any health food store or you can easily order from your favorite online store as well.
So for all you mermaids out there, here is a simple and detoxifying spirulina lemonade recipe that will have you living in the salty summer sun all year round!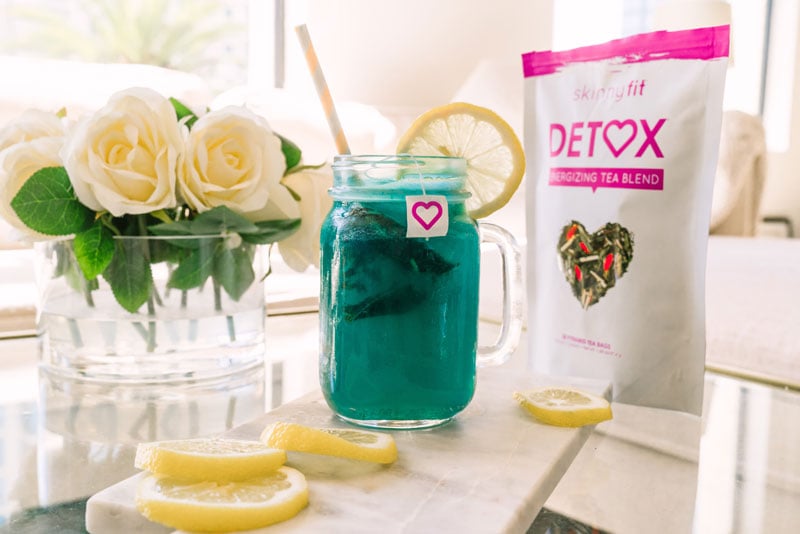 Spirulina Mermaid Lemonade Recipe
Detox all summer long with this spirulina mermaid lemonade that only takes minutes to make! Fight bloating, release toxins, and boost metabolism with only 4 ingredients!
Prep Time: 10 minutes
Cook Time: -
Total Time: 10 minutes
Serving Size: 1 Detox
Ingredients
1 cup SkinnyFit Detox
1 lemon, juiced
1 tsp agave
⅛ tsp spirulina
½ cup Ice
Steps
Steep one cup of SkinnyFit Detox and chill in the fridge.
Combine cold Detox, fresh lemon juice, agave, spirulina, and ice in a blender and blend until frothed.
Enjoy!