Jump To Recipe
Naturally sweet and loaded with superfoods, this one-of-a-kind green detox recipe is extremely quick and simple to make, and is the perfect go-to for a boost of energy and mental clarity.
When we detox, we strive to flush toxins from our bodies, built up overtime due to our diets, lifestyle, and environment (such as smoggy urban areas). Detoxes flush out this buildup that could otherwise cause us harm down the line. But what if, at the same time we eliminated toxins from our body, we also added beneficial nutrients? That's the idea behind green detox, otherwise known as a green superfood detox. 
We all know saturated fats, sugar, synthetic chemicals, pollutants, noise pollution, etc. are bad for us, and we all know that fruits, veggies, and many roots are good for us. So by flushing out lots of the bad and welcoming lots of the good, we double up the benefit to our bodies. 
This green detox drink recipe helps you do just that. And the best part is, besides getting in a healthy green detox, it's also super easy and affordable to make. That's right—no more spending $15 or more on a single green detox drink. This recipe shows you how to make your own for around $4 or so per serving. That's a full cleanse plus a superfood boost for less than the price of your coffee, and way less than some sugary, overpriced superfood detox smoothie.

About This Green Detox Drink
What makes this recipe truly stand out is that it's not just a green detox, but a superfood detox. In a world where the term "superfood" is often a superlative, that may make your eyes glaze over. After all, what these days is not a superfood? Let's start with what is.
What are superfoods?
Superfoods are foods that are rich in beneficial compounds, like antioxidants, anti-inflammatories, adaptogens, or essential fatty acids. This may seem pretty broad-ranging, but given the dearth of vital nutrients in standard meals, it actually narrows the culinary playing field quite a bit. 
Why is this a superfood detox recipe?
This green detox drink is loaded with 36 superfoods—a whopping 34 are found in our super-low-calorie secret ingredient. You'll be getting a full daily dose of some of nature's healthiest veggies, plus nutrients that help fight bloating, improve your skin, manage a healthy weight, and feel energized throughout the day (with the jitters of caffeine), and lots more. 
That's the superfood part. 
But it goes even further than that, providing powerful beneficial detoxifying ingredients in SkinnyFit Detox tea. Hence why this recipe is a superfood detox.
By combining powerful antioxidants into a low-calorie superfood infusion, your body is able to flush out harmful buildup and replace it with nourishing vitamins, minerals, antioxidants, anti-inflammatories, adaptogens, and more to essentially restart with a fresh nutrient plate. Pun intended. 
With all that said, let's dive into what makes this green detox drink such a great superfood detox too.

Green Detox Drink Ingredients
There are around 50 truly super ingredients found in this green detox drink. Since the recipe is really what you're most eager for, I'll quickly go over a handful of the most helpful ingredients in this green superfood detox and why they're so good for you.
The following are found in SkinnyFit Detox Tea, the key detoxifying ingredient in this recipe. 
Matcha Green Tea increases metabolism and is full of nourishing amino acids, minerals, and antioxidants.
Yerba Mate leaves give you a balanced energy boost (no crash), allowing you to heighten your focus, alertness, and concentration. Oh, and it's got 24 amazing vitamins and minerals, five amino acids, and plenty of antioxidants.
Hibiscus isn't simply a beautiful flower; it's also full of antioxidants that help your heart, immune system, and liver. 
Oolong Tea helps reduce stress and bad cholesterol, brightens your skin, and provides a host of essential vitamins. 
Goji Berries are said to improve athletic performance with improved circulation. They also contain iron, so they're great for vegan diets or those with iron deficiency.
Milk Thistle protects the liver and contains high levels of silymarin, a powerful antioxidant.
Ginseng reduces stress and blood sugar, improves concentration, and supports immunity.
Lemongrass soothes bloating, constipation, indigestion, and similar digestive issues. 
Nettle Leaf helps boost immunity and ease allergies (all thanks to its awesome antiinflammatories).
Dandelion Leaf helps hearts and hides farts 😂 (by relieving gas and bloating). 
Guarana boosts mental alertness and physical performance. 
Stevia Leaf is a natural no-calorie sweetener with none of the negative effects of sugar. 
Apples give your body heaps of vitamin C, boost immunity, and promote weight loss. 
These ingredients help to flush out toxins. But, as you see, they also provide heaps of health benefits. Now, let's take a look at six of the 34 superfoods found in SkinnyFit Skinny Greens, the superfood blend making up this green superfood detox recipe.
Organic Spirulina contains antioxidants that reduce inflammation and total cholesterol. It also has important vitamins and minerals, including iron and B vitamins.
Organic Chlorella Powder naturally flushes out harmful heavy metals and contains kidney- and heart-healthy omega 3s. 
Spinach Leaf isn't just for salads. It's in this superfood blend because it's high in protein, iron, and calcium—all help support skin, immune, and bone health.
Turmeric Root Extract is one of the most powerful natural anti-inflammatories and antioxidants out there. [1]
Ashwagandha isn't just really fun to say, it's really healthy. It decreases stress, anxiety, and inflammation.
Rhodiola Root Powder is a natural adaptogen, which helps your body manage a variety of mental, emotional, and physical stressors.
How's that for a superfood detox?! There are a few other ingredients added to this green detox drink recipe worth pointing out, too:
Apple Cider Vinegar can increase fat loss and flush out toxins. It's also found in SkinnyGreens. ACV detoxes are also super popular.
Cucumber sits on the fence between great food and superfood. But they are loaded with important nutrients, one of which is the antioxidant beta-carotene. [2]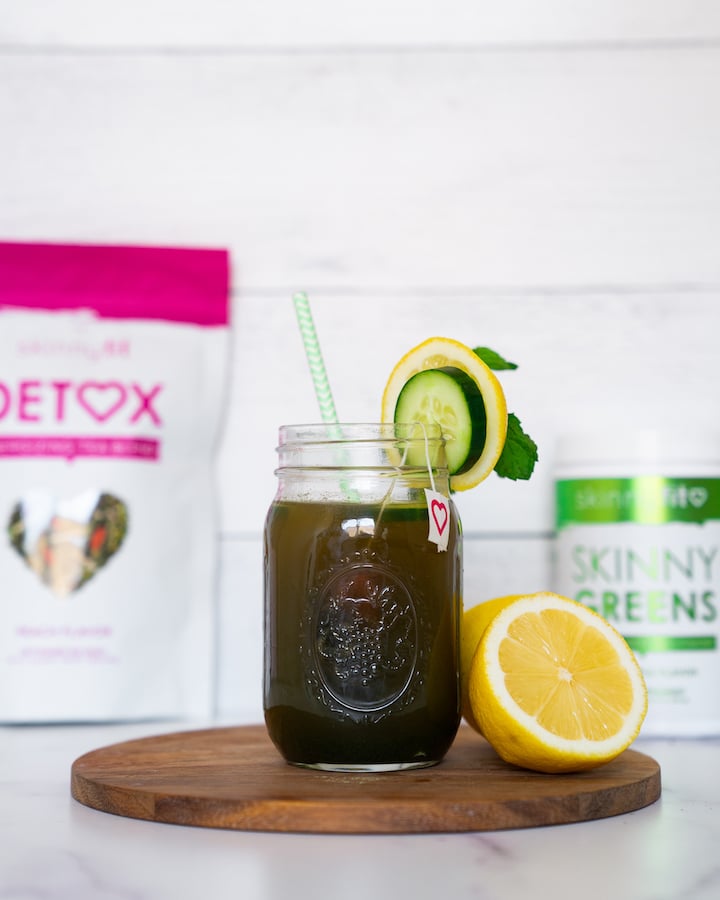 Green Detox Drink
This green detox recipe is naturally sweet & loaded with superfoods. Plus, it's simple to make & is perfect for a boost of energy in the middle of the day!
Prep Time: 5 minutes
Cook Time: 5 minutes
Total Time: 10 minutes
Serving Size: 1 detox
Ingredients
8 oz SkinnyFit Detox, brewed and chilled
1-2 tbsp apple cider vinegar
2 tbsp lemon juice
1 scoop Skinny Greens
5-6 cucumber slices
Ice
Steps
Add Detox tea, ACV, lemon juice, and Skinny Greens to a tall glass and mix well until Skinny Greens is fully incorporated.
Add cucumber slices and ice.
Serve and enjoy!