Jump To Recipe
What Is A Superfood Smoothie?

The term "superfood" gets thrown around so much these days it can seem like the real challenge is finding food that's not super. Seeing products like "soy" or "whole wheat" labeled as superfoods is enough to make any nutrition-conscious consumer cringe. But that's not to say there's no such thing as superfoods. In fact, there are many foods worthy of such a title. And it just so happens a lot of them blend perfectly into smoothies.
A traditional superfood smoothie mixes fresh foods (usually nutrient-rich fruits and veggies) into a sip-able concoction made to keep your energy up and your immune system on high alert throughout the day. Blending all those exotic, colorful fruits from across the globe also adds a wide and ample array of vital nutrients to your daily intake. 
The only problem is that all those super ingredients are super inconvenient to store and prepare. Buying these foods whole can also be a serious budget burden. Fresh berries and other fruits can cost $3-7 per pound or more. Exotic ingredients, such as certain roots and mushrooms, can push double digits per pound. 
And while many superfoods are common at your local grocery store, where on earth are you going to find something like reishi mushrooms? When you start tallying up the sheer amount of food you'd need to give yourself a significant boost of so many nutrients, it becomes apparent that you'd need multiple blenders (let alone stomachs) just to fit it all!
The good news is that you can still make a natural superfood smoothie or smoothie bowl from a vast selection of exotic ingredients, overflowing with powerful nutrients. And you can do it without the expensive grocery bill, excessive prep time, or the guilt that comes from throwing out food that you simply can't get to. The recipe below shows you how. 
How To Make A Superfood Smoothie Bowl At Home

Simplifying your smoothie diet isn't difficult; it just takes finding a supplement powder with all (or more) of the nutritional benefits of whole fruits and veggies, in a dissoluble powder that tastes more like food than, let's say, chalk.
Now, I realize there's no shortage of supplementation options out there, but if you've tried as many as we have, you're likely to have been disappointed by as many as we have. Too many ultra-healthy powders out there leave both your tastebuds and wallet feeling cheated. And some of the most flavorful lack the ideal breadth of nutritional gusto, turning your superfood smoothie into more of a so-so smoothie. 
Because we lean a little past normal on the Smoothie Snob Spectrum (What!? You gotta have your passions in life!) we'll be souping up this smoothie/smoothie bowl recipe with SkinnyFit Beauty Juice. It's a healthy go-to because it's rich in nutrients and taste, while dissolving perfectly in your blender.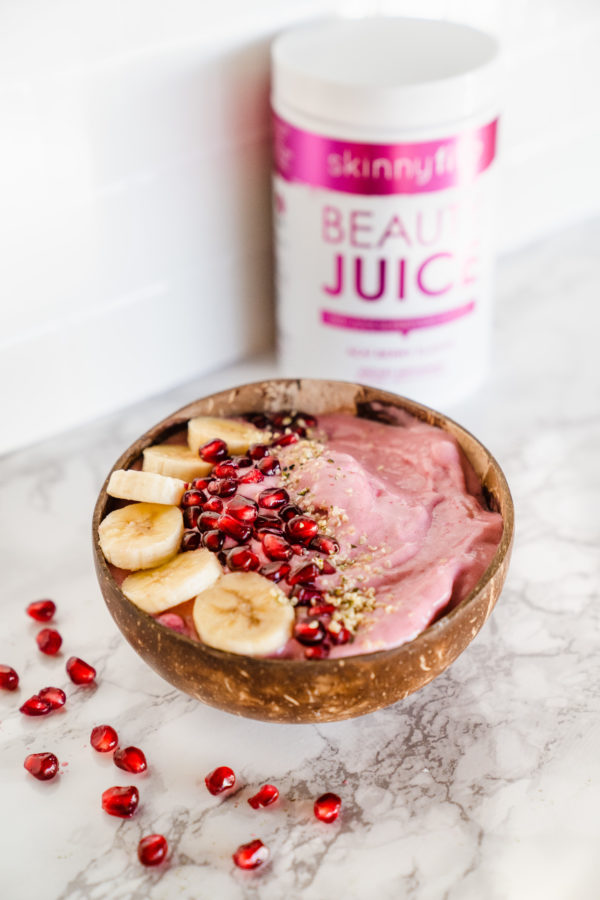 But first, let me address the question on your mind. What in Beauty Juice is actually a superfood? Well, pretty much everything. 
Beauty Juice is loaded with antioxidants, probiotics, and adaptogens in a convenient powdered form that gives you more nutrients in one scoop than you could eat in multiple sittings if you tried to get the same amount of vitamins and minerals from eating foods whole. This makes it perfect for anyone who lives their life in the few sparse moments between sleep, work, school runs, baseball practice, workouts, dinner and all the other life duties in between.
Antioxidants make up a big portion of each serving of Beauty Juice. Good news, considering studies show antioxidants can help prevent damage from free radicals, a known cause of cancer. (1) Some standout antioxidants in Beauty Juice include pomegranate, pineapple, maca root, and goji berries. Besides creating Beauty Juice's delicious berry flavor, they help your body in dozens of different ways. 
You'll also find an array of healthy culinary mushrooms and roots, such as lions mane and cordyceps mushrooms, and turmeric and Rhodiola root provide numerous substantial benefits that help out with everything from inflammation to digestion to anxiety. (See, I told you there were real superfoods out there 😉) 
And of course, Beauty Juice is made with natural açaí berry powder, which makes it perfect for making an açaí bowl or superfood smoothie. 
So, why can't you just blend Beauty Juice by itself? Well, you totally can (and it's delicious with just water alone) but for the sake of making a powerhouse superfood smoothie bowl, we want to throw in a few other ingredients for flavor, texture, additional nutrients—or just to spice (or should I say, sweeten) things up. Whether you choose to pour yours into a smoothie bowl to enjoy in leisure, or into a cup or mason jar to slam on your way out the door, if you follow this recipe, your smoothie is going to make your tastebuds happy and give you an energy and immune boost throughout the day.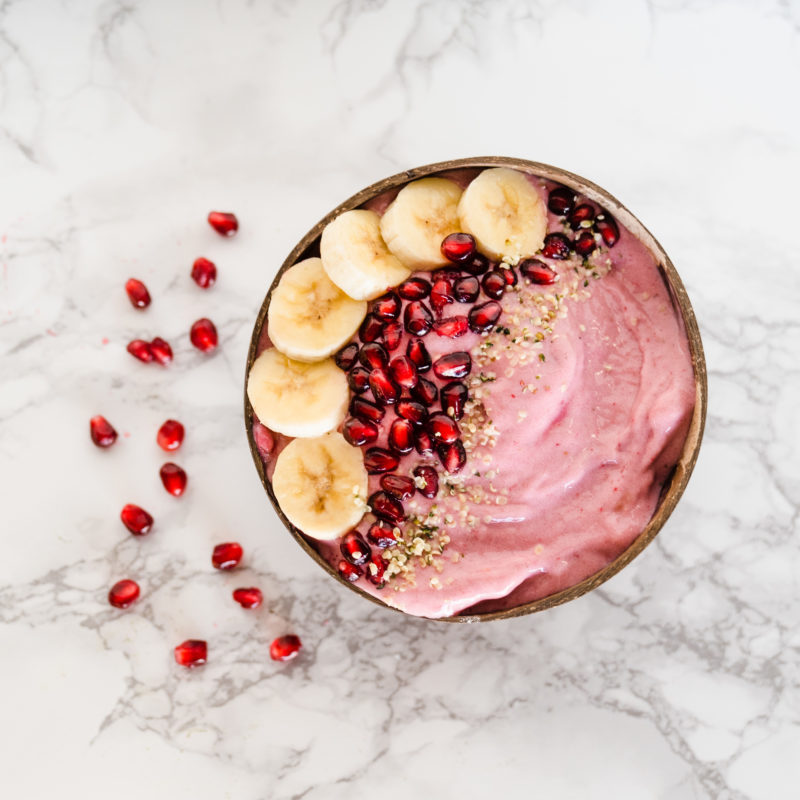 Superfood Smoothie Bowl Recipe
This superfood smoothie recipe is not only delicious and easy to make but will help you achieve vibrant, youthful-looking skin! You only need 4 ingredients!
Prep Time: 5 minutes
Cook Time: -
Total Time: 5 minutes
Serving Size: 1 smoothie bowl
Ingredients
2 cups frozen banana slices
2 cups frozen strawberry slices
½ cup coconut yogurt or any other yogurt
1 scoop Beauty Juice Red Superfood Powder
*Optional toppings: strawberries*, goji berries*, pomegranates*
Steps
Place all of the ingredients into a food processor or blender. Blend on low, scraping down sides as needed, until the mixture reaches a soft serve consistency.
Scoop into the serving bowl(s) and top with optional fresh fruit.