Jump To Recipe
There are two kinds of people in the world—dip people, and plain people. I, without a doubt, am a dip girl. I love salsa, guac, hummus, and seven-layer dips. You name it, I'll dip it. The problem is that healthy store-bought options can be expensive. If you're a dip person and you feel the same way, I've got great news for you. I have the easiest, most delicious, cost-effective hummus recipe for you to try. Plus, it includes my go-to anti-aging ingredient. 
Healthy lunch recipes can get old, but with the right dip or sauce, you can transform it into what feels like entirely new lunch ideas.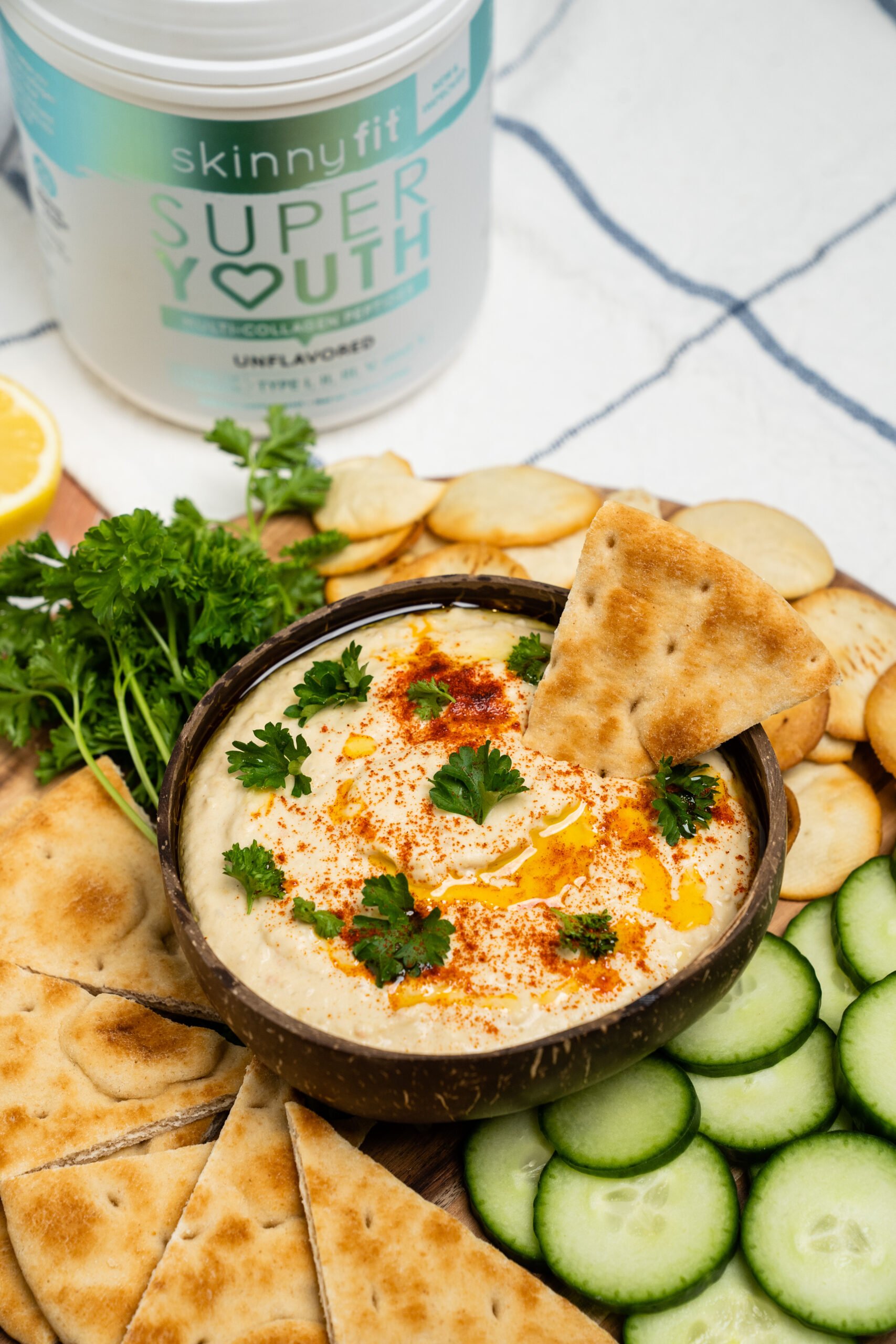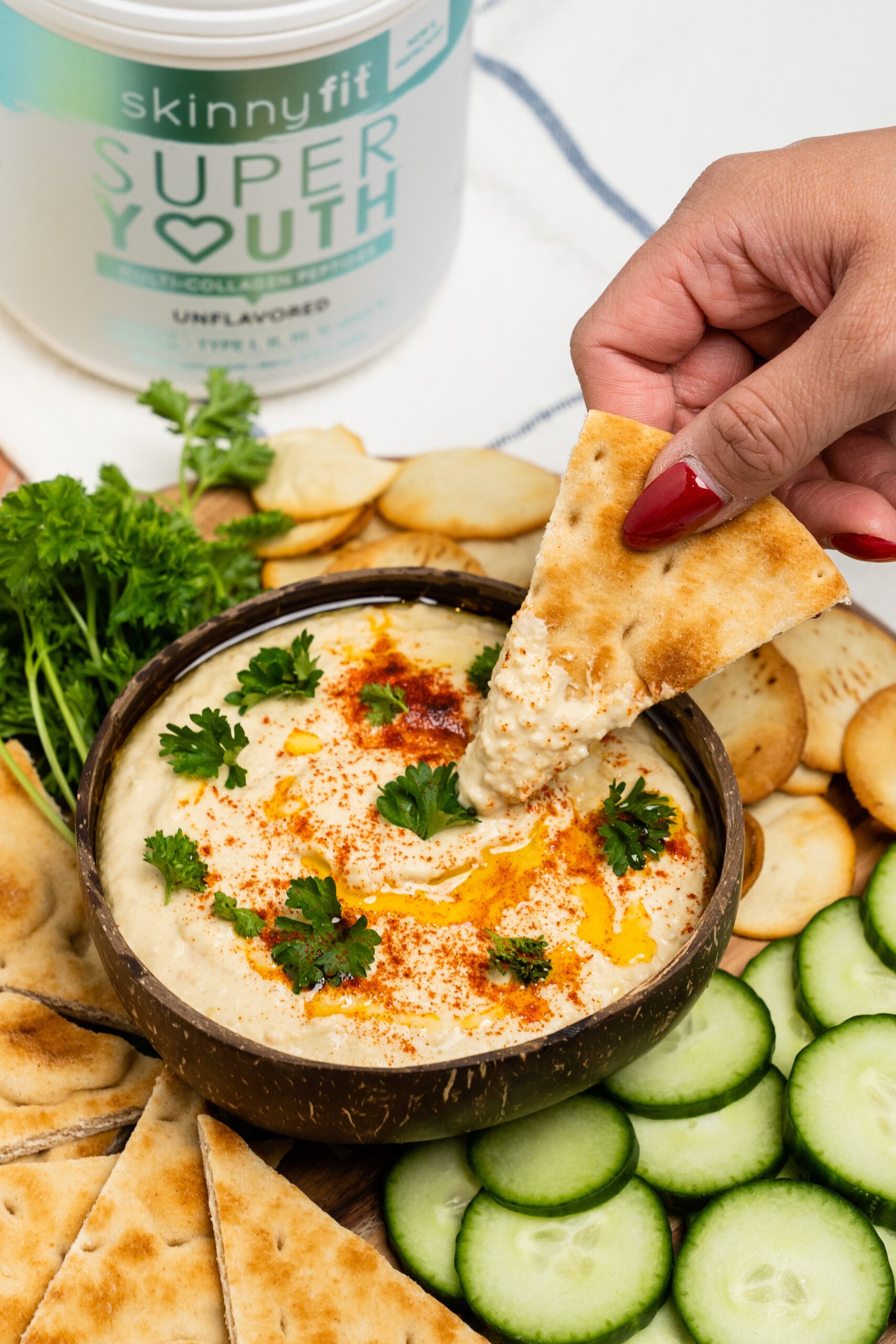 Easy To Make & Full Of Benefits
When I'm brainstorming healthy lunch recipes, my main focus is nutritional content. There are plenty of quick and easy meals that don't break the bank, but certainly go against health goals. My job is to make sure you have a balance of delicious lunch ideas that make you feel good, inside and out. This hummus recipe can help you do just that. 
First off, it's super simple to make. You probably already have most of the ingredients in your kitchen already! There's no chopping or downtime in this recipe, you just add everything to a blender and enjoy. Quick recipes like this one allow you more time to focus on your family, rest, your workout routine, and more.
So what makes this recipe better than store-bought hummus? First, the ingredients are as clean as they come. It doesn't contain any seed oils, sugar, artificial preservatives, gums, or gluten. It's so fresh, you'll want to eat it by the spoonful! Plus, I've never seen a hummus at the grocery that includes collagen. This homemade recipe has two scoops of my favorite anti-aging, gut-soothing, joint-supporting collagen—Super Youth. It includes 14 grams of protein, plus all of the incredible amino acids that help our hair, skin, nails, and muscles thrive. 
Add this hummus to your rotation of lunch ideas. I like to enjoy it as a side with carrots and crackers, coated over grilled chicken breast, or on top of my favorite salad for a creamy, collagen-rich topping. No matter how you enjoy it, you'll get all of the incredible benefits of Super Youth with it!
Mentioned In This Post
SkinnyFit Unflavored Collagen
Look and feel younger with Super Youth Multi-Collagen Peptides! This versatile collagen powder includes 5 collagen types from 4 natural sources to restore youthfulness from the inside out.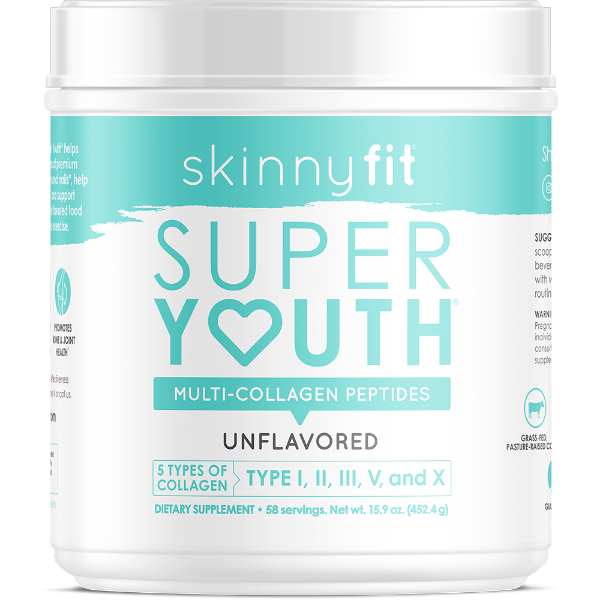 The Best Healthy Homemade Hummus in 3 Minutes
Prep Time: 3 minutes
Cook Time:
Total Time: 3 minutes
Serving Size:
Ingredients
2 scoops Super Youth Unflavored
2 (15-oz cans) chickpeas, drained with liquid reserved
⅓ cup chickpea liquid
½ cup tahini
¼ cup olive oil
2 lemons, juiced
2 garlic cloves
1 tsp cumin
½ tsp kosher salt
Extra-virgin olive oil
Paprika
Freshly chopped parsley
Steps
Add all ingredients to blender, combine until smooth
Serve with desired toppings and sides