Jump To Recipe
What tropical paradise would be complete without a tropical margarita? Clear blue water, check. Favorite pair of sunnies, check. Cute cabana boy, well, only if you insist. 😉 Even if the salty seas aren't at your disposal right now, you can still create your very own escape right at home, with this fruity and refreshing tropical punch margarita. 
Tropical Margarita Ingredients
Skip the over sugared, processed ingredient filled, fruity margarita at your favorite Mexican restaurant, and instead opt for this fresh, healthier version of the beloved tropical margarita. Made with just a few ingredients, you'll skip the extra calories, so you can have seconds, and thirds, and…🥴
Pick up your favorite brand of tequila, some Triple sec or Cointreau, and a few limes, for a limited-ingredient tropical punch margarita your diet will thank you for.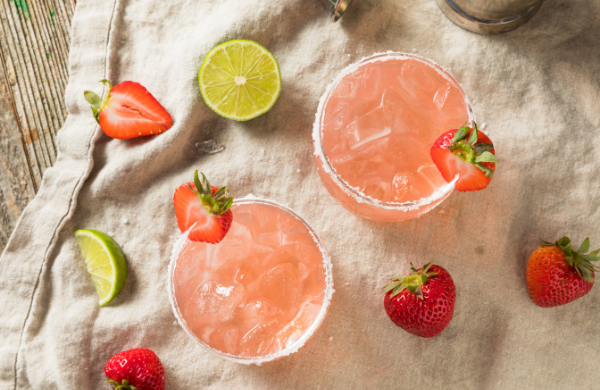 Tropical fruits for margaritas
By now, you're probably wondering how this tropical margarita gets its tropical taste. Great question, because I've saved the best ingredient for last! 
Enter Super Youth Tropical Punch collagen, the thing you didn't know your fruity margarita needed! If you're not yet familiar with the incredible benefits collagen can provide, let me do the honor of filling you in. 
Collagen makes up about one-third of our body's protein composition, it provides structure, and is basically the "glue" that holds our bodies together. Collagen makes up our skin, bones, muscles, tendons, ligaments, and even our teeth, just to name a few.
When our levels start to deplete beginning in our early 20's, that "structure" holding us together dwindles, and we experience wrinkles, stiff joints, and brittle hair and nails. By supplementing collagen into our diets, like with this tropical punch margarita, we can rebuild this lost collagen for firm, plump skin, strong bones and joints, and strong, healthy hair and nails. 
Not only does this tropical margarita help do all that, but it's also what adds the yummy tropical flavor to transport you to a mental paradise. 
For a fruity margarita with even more fruitastic "umph", top your tropical margarita off with any of these Moraccan mood setting fruits: 
Orange
Pineapple
Strawberry
Papaya
Mango
Guava
Or you can add any fruit that tickles your tropical fancy! No matter what you choose, the "wow factor" benefits and bursting flavor of Super Youth Tropical Punch, will make this tropical punch margarita unlike any other!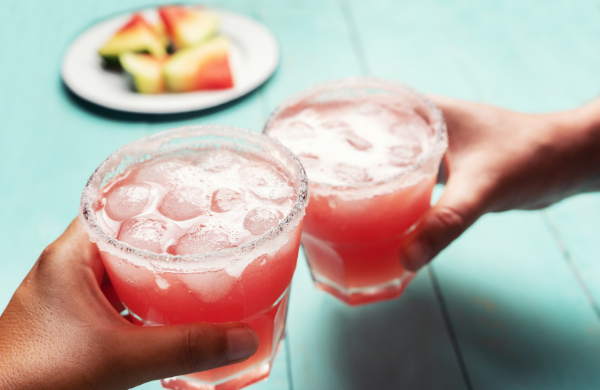 How To Make A Tropical Margarita
Got five minutes to spare? Perfect! Then you've got time to whip up this life and skin changing (literally) fruity margarita in time for your next Netflix binging session. 
Start by mixing the water Super Youth together until the collagen is complete dissolved. After that, simply toss all your ingredients in a cocktail shaker with ice and shake. And I mean shake it girl! 💃 Grab your favorite margarita glass and kick back with the best tropical punch margarita your taste buds have ever had! Been dying to whip the blender out? This fruity margarita is equally as delicious when blended! 
This particular recipe makes two, so grab your nearest gal pal, some chips and salsa, and hit play on the new Netflix Selena series. After a few glasses, you'll be shakin' that rump like Selena would have wanted! 
Enough chitter chatter, ready to pour some liquid courage and turn your living room into a tropical dancing destination? Move over Bora Bora, there's a new tropical escape in town. Okay maybe that's a stretch, but seriously, you're going to love the way this tropical margarita makes you feel! From vacay vibes to smooth skin, this recipe really has it all, cheers!
Mentioned In This Post
SkinnyFit Tropical Punch Collagen
Super Youth Tropical Punch tastes like a vacation with every sip. This premium collagen protein includes 5 major collagen peptides from 4 natural sources to restore youthfulness from the inside out. Tastes amazing with just water!
Tropical Punch Margarita
A deliciously sweet tropical margarita with a healthy spin!
Prep Time: 5 min
Cook Time: 0 min
Total Time: 5 min
Serving Size: 2 margaritas
Ingredients
1 cup water
1 scoop Super Youth Tropical Punch collagen
4 oz tequila
2 oz triple sec (or Cointreau)
2 oz lime juice
Oranges, limes, and other fruit for garnish
Steps
Mix water and Super Youth until the collagen is completely dissolved. Add all ingredients to a cocktail shaker with ice and shake vigorously. Salt the rim of your glasses with margarita salt and fill with ice. Pour over ice and garnish with fresh fruits and lime.