Jump To Recipe
Healthy, homemade, and way better than coffee! This vanilla chai recipe is here to spice up your morning routine!
When I'm driving through any coffee shop, my brain automatically goes to an iced coffee, or whatever latte is trending that month. But every so often I remind myself that there's a cozier, tastier option to my morning addiction. A chai latte! 
Because chai lattes aren't exactly mainstream, they always seem to slip my mind. But when I take that first sip, I'm reminded of why I love them so much! The problem with a chai latte addiction however, is that they can get costly. Enter the homemade chai latte! 
I'm here to make your morning routine a whole lot tastier, while saving you some moolah 💰 along the way! Move over coffee, there's a new breakfast boss in town! 
What Is A Chai Latte?
Does anyone else remember when Oprah had her big chai latte drop at Starbucks? I really feel like that put chai tea on the map, and why they ever got rid of it will always baffle me. But that's okay, because this homemade chai latte would most definitely be Oprah approved!
The word chai actually just means tea, so if you've heard of chai tea, it literally translates to tea tea. Chai itself is a mixture of black tea and spices. In this particular recipe, I show you how to make your very own vanilla chai mix so you can make your own chai tea lattes at home in just a matter of seconds! 
Contrary to popular belief, a homemade chai latte, or any chai latte for that matter does not actually contain coffee. The latte part comes from adding warm, or steamed milk. But don't worry, no coffee needed! The combination of spices in this vanilla chai powder in addition to the black tea in the homemade chai latte will provide a nice, subtle energy kick, without the crash or jitters that coffee might.
Homemade Vanilla Chai Mix
This delicious vanilla chai mix is easy to make, and you probably have most of the spices already in your spice cabinet! Check out the vanilla chai powder ingredients below to see what you have, and what you'll need. 
Vanilla chai powder ingredients
1 teaspoons cardamom
2 teaspoons allspice
2 teaspoons ground nutmeg
1 teaspoon cloves
2 teaspoon cinnamon
Fresh vanilla beans from half of a pod 
How to make vanilla chai powder
After you make your batch of vanilla chai mix, you'll have a fresh vanilla chai powder available to you for a whole month! 
Simply mix everything together and keep it in an airtight container, and boom! You're ready to make a homemade chai latte in minutes!
Health Benefits Of Chai Tea 
Improved digestion—the yummy blend of spices in this vanilla chai mix is great for helping to regulate digestion. Spices can help keep your gut healthy, for optimal digestion which can even help you achieve a healthy weight.
Antioxidants—black tea, like the one in this recipe, contains antioxidants. Antioxidants help keep you healthy by removing free radicals that can cause cell damage in the body. 
Youthful, healthy skin—my favorite part about this recipe is its youthful properties. This is because I've added my favorite fountain of youth to it, Super Youth collagen. Super Youth collagen is my go-to for keeping my skin smooth and tight, helping to grow my hair and nails, and keeping my body performing at its most youthful level.  
Ready to meet your new favorite morning pick-me-up? In just 5 minutes you'll be sippin' on a delicious, aromic, and body-loving homemade chai latte, enjoy! 
Mentioned In This Post
SkinnyFit Unflavored Collagen
Look and feel younger with Super Youth Multi-Collagen Peptides! This versatile collagen powder includes 5 collagen types from 4 natural sources to restore youthfulness from the inside out.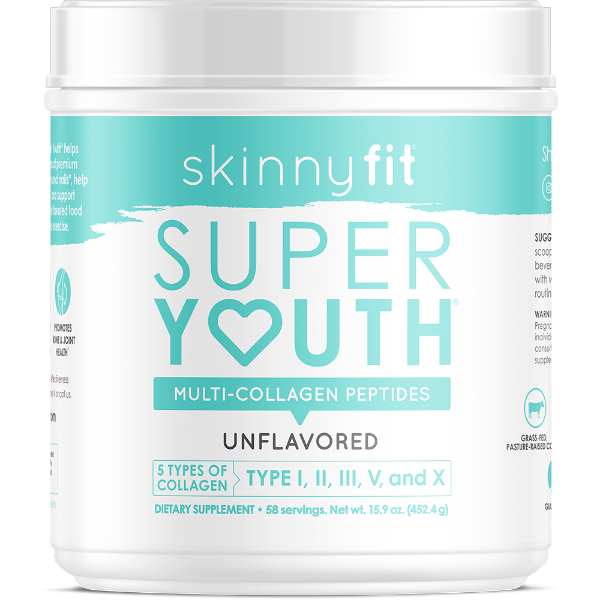 Homemade Chai Latte
A deliciously spiced homemade vanilla chai for perfect mornings that will save you $$$
Prep Time: 5 min
Cook Time:
Total Time: 5 min
Serving Size: 1 latte
Ingredients
2 tbsp homemade vanilla chai mix (recipe above)
2 tablespoons warm water
1 cup warm milk of choice
1 tea bag, black tea
1 scoop Super Youth collagen, Unflavored
Steps
Steep the black tea in 1 cup of hot milk for 5 minutes. Meanwhile, mix 2 tbsp of chai mix, 2 tbsp warm water, and the Super Youth collagen in a blender. Once the tea is finished steeping, remove the tea bag and add the black tea milk to the blender. Blend until smooth and creamy. Pour into a mug and top with a sprinkle of cinnamon and enjoy.