Jump To Recipe
With the sun ready to come out for spring and summer, I want to make sure you guys have some delicious, easy-to-whip-up dishes to bring to parties. In my opinion, the fastest things to make are vegetarian recipes, just because meat tends to take longer to prepare. Don't worry, this recipe still has tons of flavor and I even snuck some protein in.
If spring vegetables are your vibe, you're going to love this fresh pasta salad recipe. Be sure to save it for the next time you need to bring a shareable healthy dish to a party or get-together.
Pasta Salad Just Got Even Healthier
Colorful meals are the best meals. Not only are they aesthetically pleasing, but it also means they're full of a variety of nutrients. Most pasta salads, especially the vegetarian recipes, are boring—lacking in color, dimension, and protein or fat. Until now!
This street corn pasta salad recipe I'm sharing today is vibrant, delicious, and full of healthy ingredients. Just one look at it and you know it's good for you. There's yellow corn, green cilantro, jalapenos, and avocado, red bell peppers and onion, and tons of spices. Somehow, it tastes EVEN BETTER than it looks.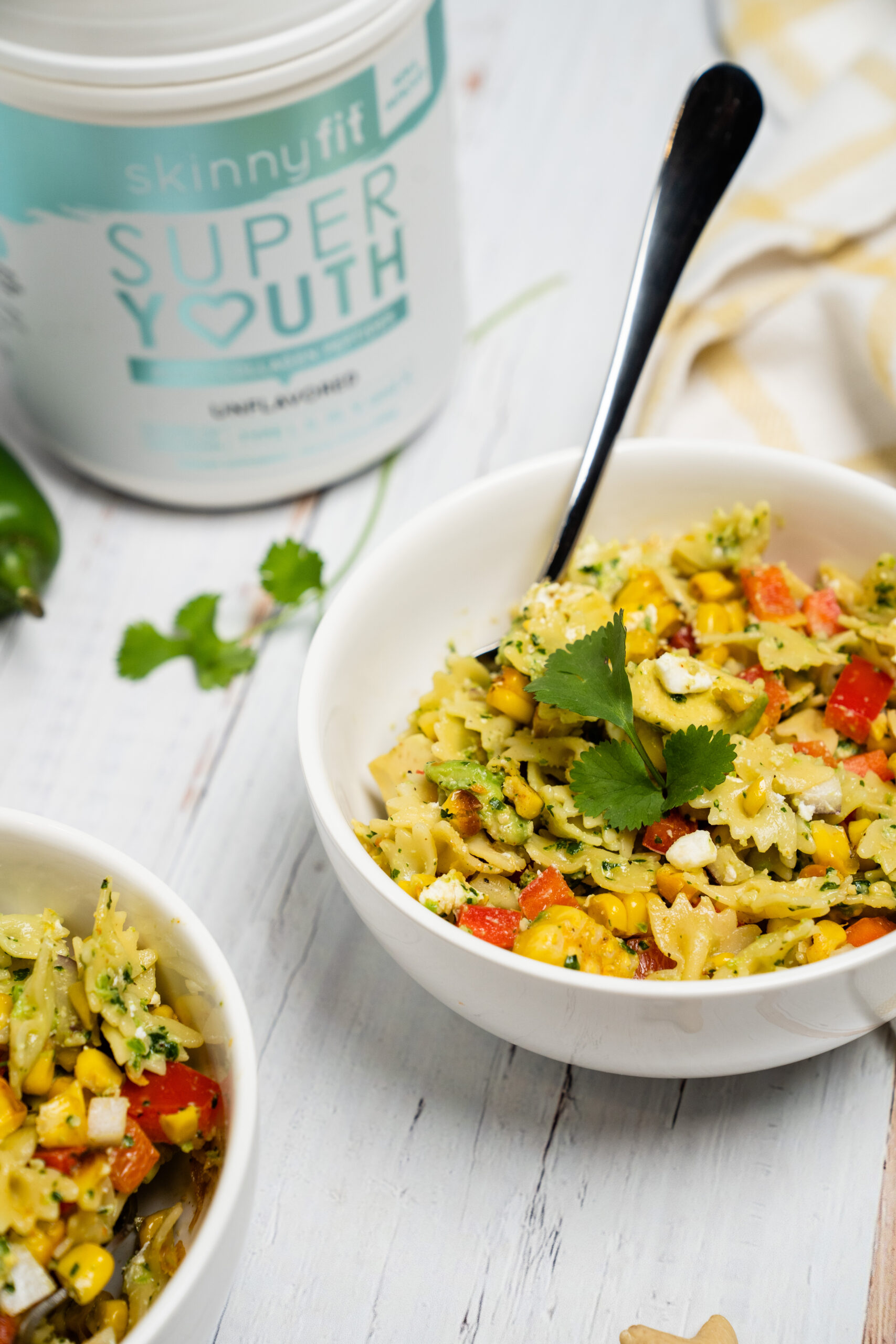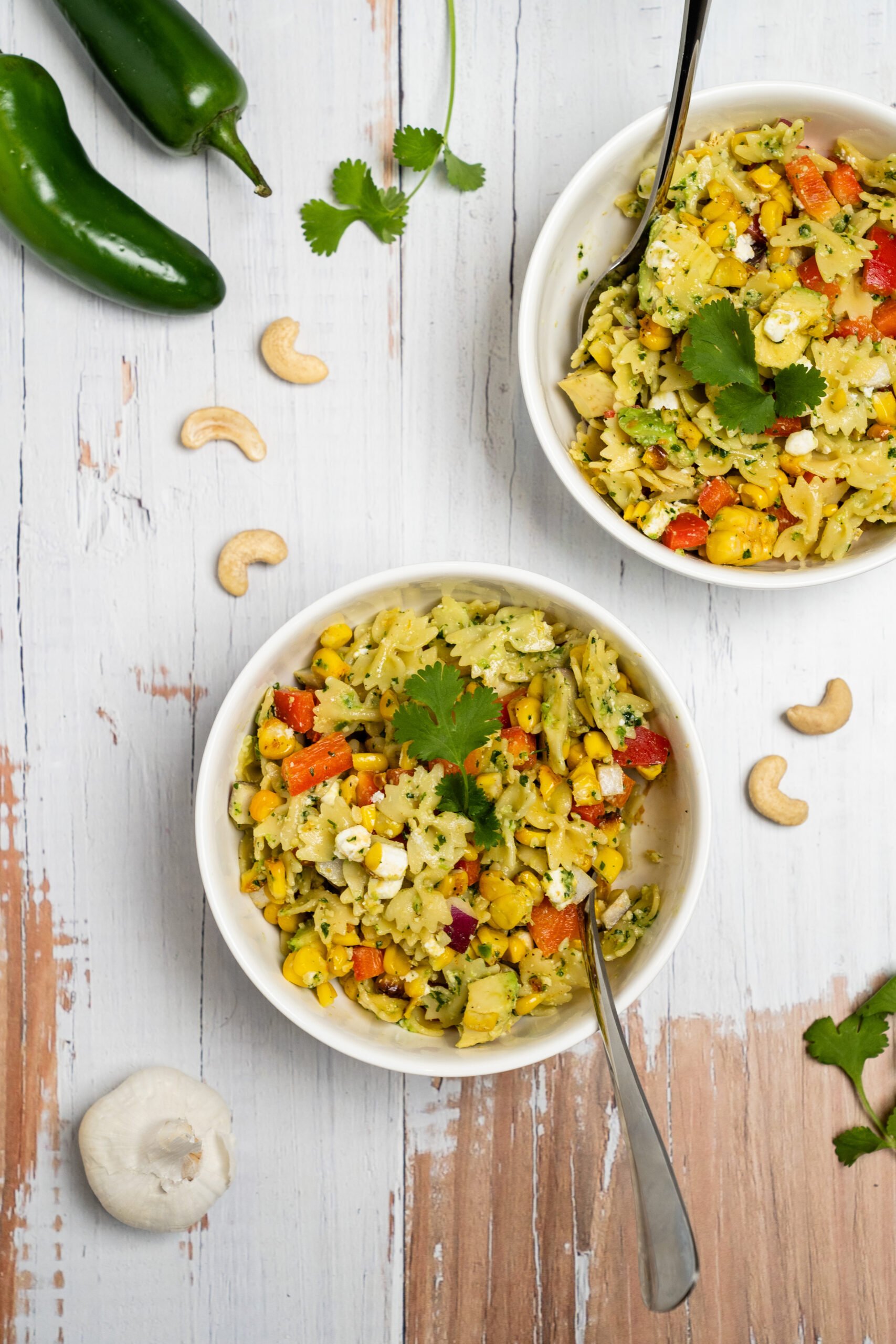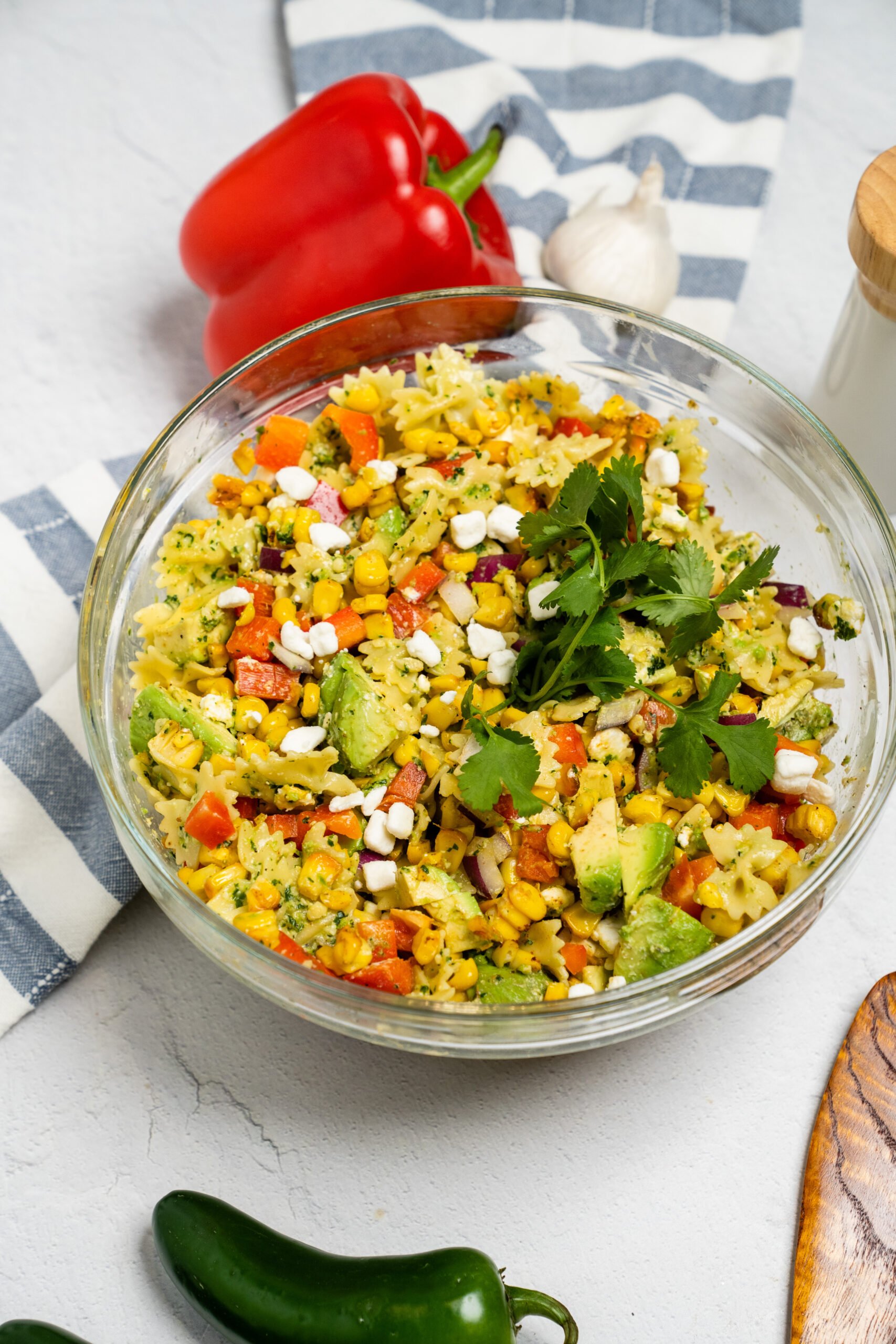 3 Reasons Why You Need This Recipe For Spring
This pasta salad is one of those vegetarian recipes that are going to be a hit, and everyone will be pleasantly surprised by. Here are my three favorite reasons for having it on hand: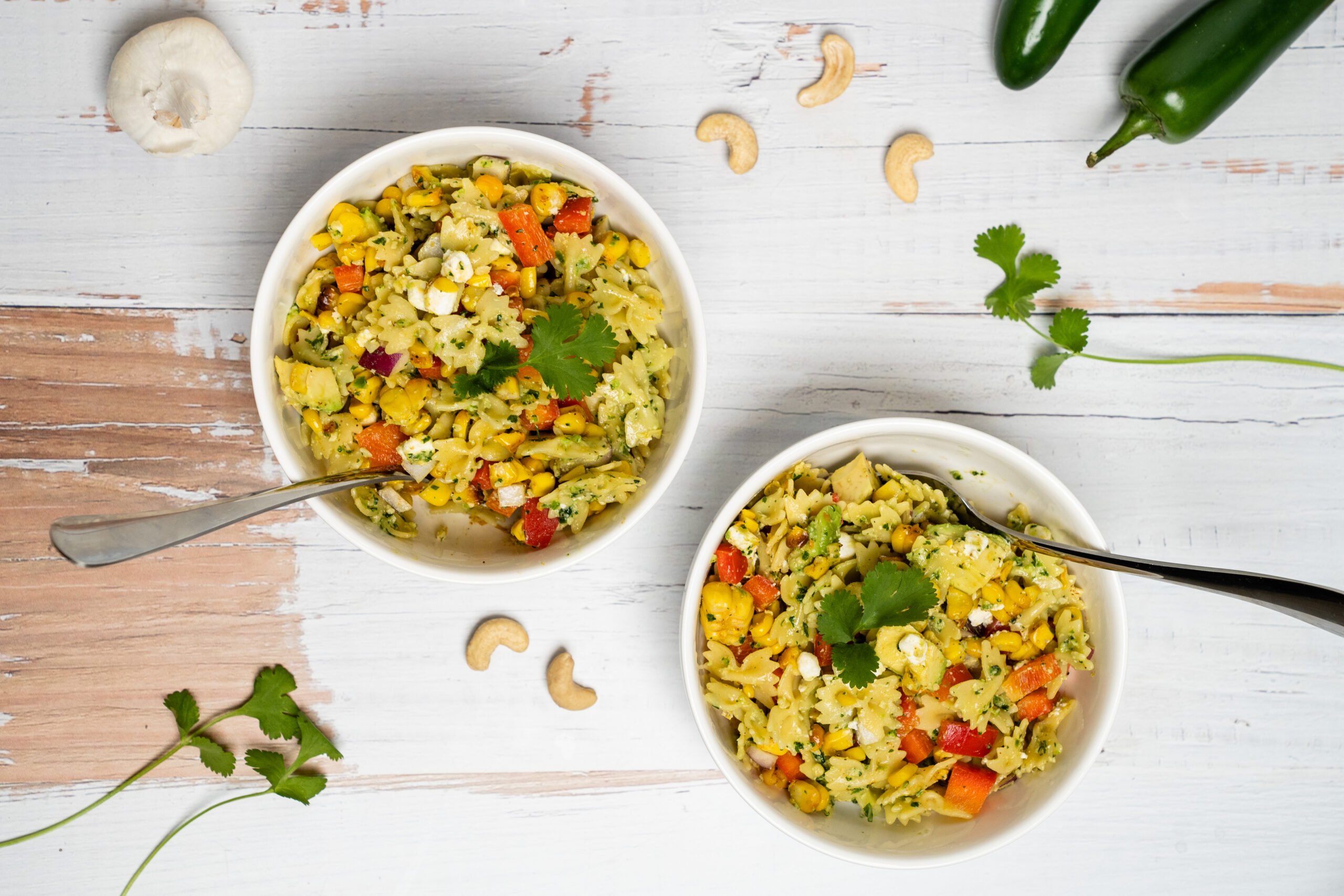 1. Great for parties
This dish is perfect for serving up at parties or bringing over to a friend's or family's house for a BBQ. It's easy to share, transport, and it's almost guaranteed to not have leftovers. Plus, in my experience, even the kiddos love it!
2. Full of Healthy Fats & Protein
This recipe is so good for you. It includes all different kinds of fresh produce, including healthy fats like avocado and vitamin A and C-rich bell pepper. Plus, the addition of Super Youth, cashews, and certain pastas add a good amount of protein as well.
3. Antioxidants
The more colors you see in a dish, it's more likely to have higher antioxidant content. Antioxidants help stabilize, or neutralize, free radicals in the body. Eating antioxidant-rich foods and dishes are a great way to help reduce inflammation, keep skin clear, and promote healthy cell turnover. [1]
Mentioned In This Post
SkinnyFit Unflavored Collagen
Look and feel younger with Super Youth Multi-Collagen Peptides! This versatile collagen powder includes 5 collagen types from 4 natural sources to restore youthfulness from the inside out.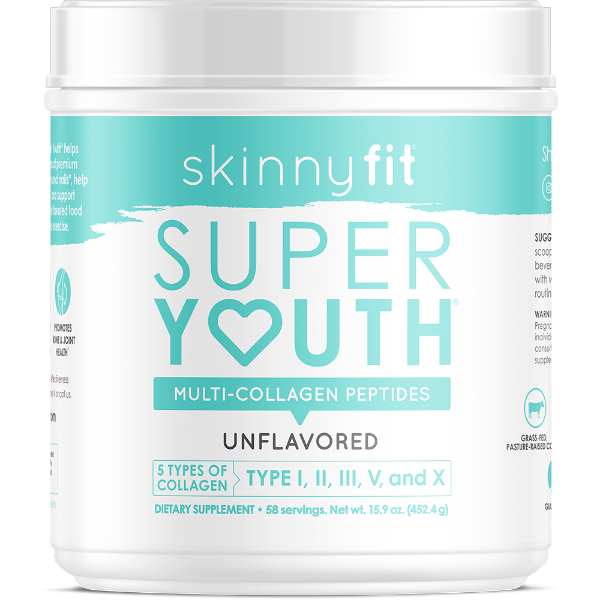 Vegetarian Street Corn Pasta Salad
Prep Time: 15 minutes
Cook Time: 30 minutes
Total Time: 45 minutes
Serving Size: 6 servings
Ingredients
2 large ears of corn
1-2 tsp avocado oil
½ tsp chili powder
½ tsp cumin
Freshly ground salt & pepper
8 oz bow tie pasta (or preferred pasta)
1 red bell pepper, diced
½ avocado, diced
⅓ cup goat cheese crumbles
½ cup diced red onion
2 scoops Unflavored SY
1 cup cilantro leaves
⅓ cup roasted or raw cashews
1 lime, juiced
1 clove garlic
1 jalapeno
2 tbsp avocado oil
¼ tsp salt, plus more to taste
1-2 tbsp water, to thin the pasta
Steps
Preheat grill to high, then drizzle corn with avocado oil. Top with seasonings, then cook on the grill until charred, about 10 minutes. Let the corn cool, then cut from the cob and set aside
Meanwhile, boil pasta until al dente, according to package
Drain pasta & add to a large bowl once cooked
Next, make the cilantro pesto: add ingredients to a food processor, and combine until smooth, adding water if necessary
Add pesto to pasta bowl and mix to combine
Finally, add in cooked corn, red bell pepper, avocado, goat cheese, red onion, and mix all together 
Garnish with toppings, serve, and store remaining pasta in the fridge to enjoy later!