Jump To Recipe
If you love the taste and satisfaction of a home-cooked meal, but hate having a week's worth of leftovers, this recipe is for you! I seriously love enchiladas, but every enchiladas recipe I've ever found makes enough to feed a small village. Plus, I'm not proud of it, but I'm just not a leftovers girl! [...]
If you love the taste and satisfaction of a home-cooked meal, but hate having a week's worth of leftovers, this recipe is for you! I seriously love enchiladas, but every enchiladas recipe I've ever found makes enough to feed a small village. Plus, I'm not proud of it, but I'm just not a leftovers girl! I like my food fresh, and hot as lava. So, for me, small batch recipes are my jam. Like this enchiladas recipe I'm going to share today! It has all the flavor of authentic enchiladas, without the hefty serving size. Even better, it's a small enough serving size that's perfect for two people.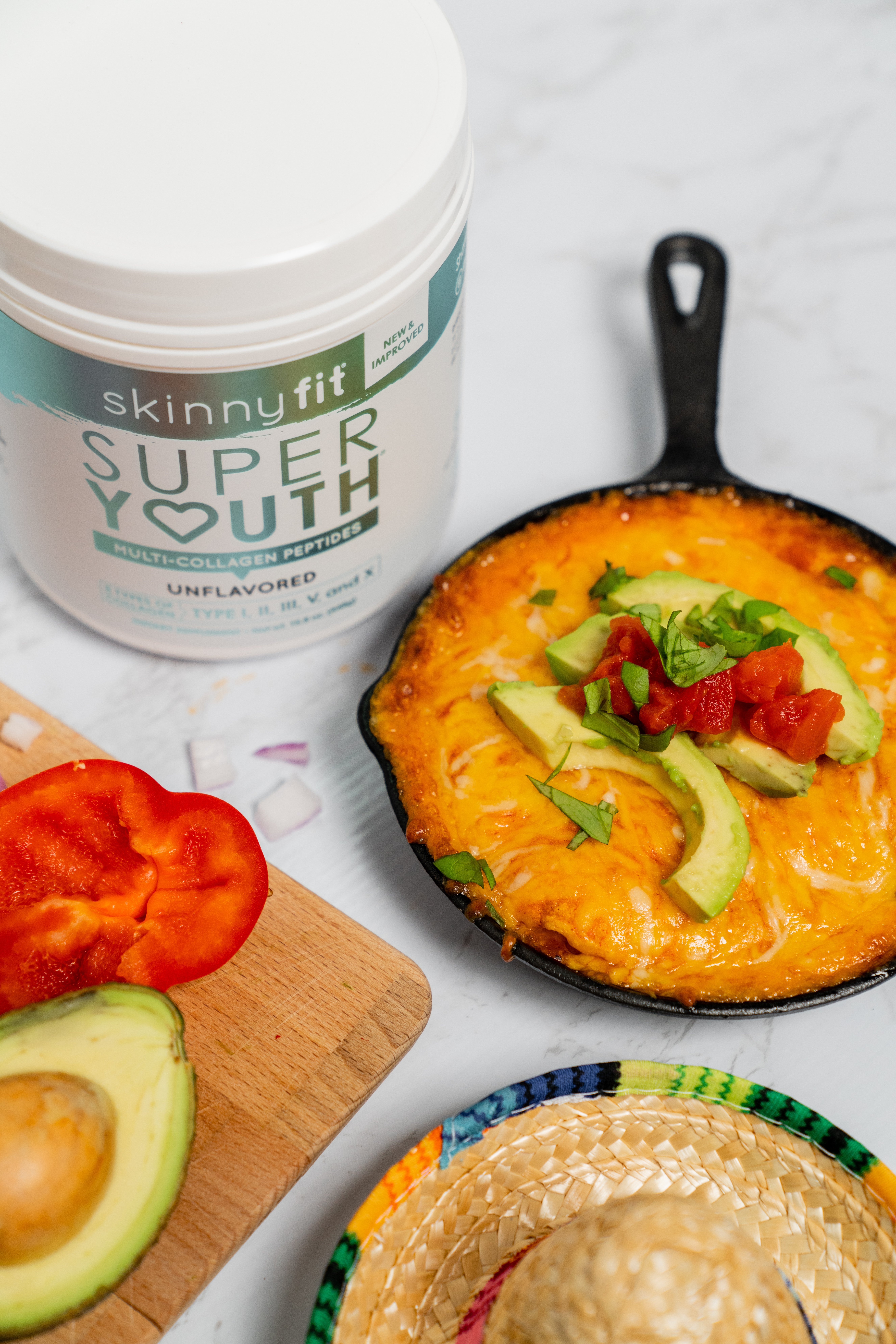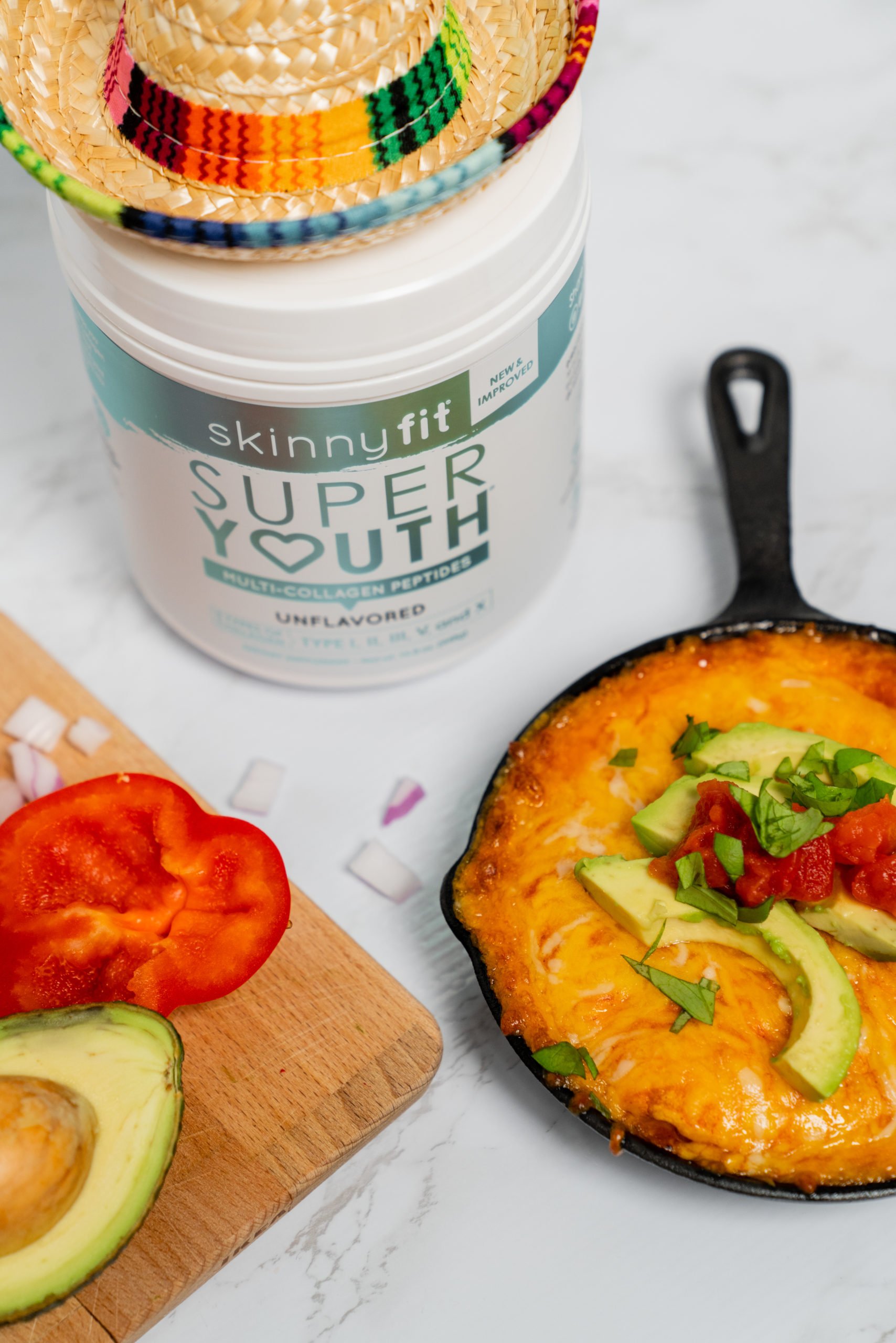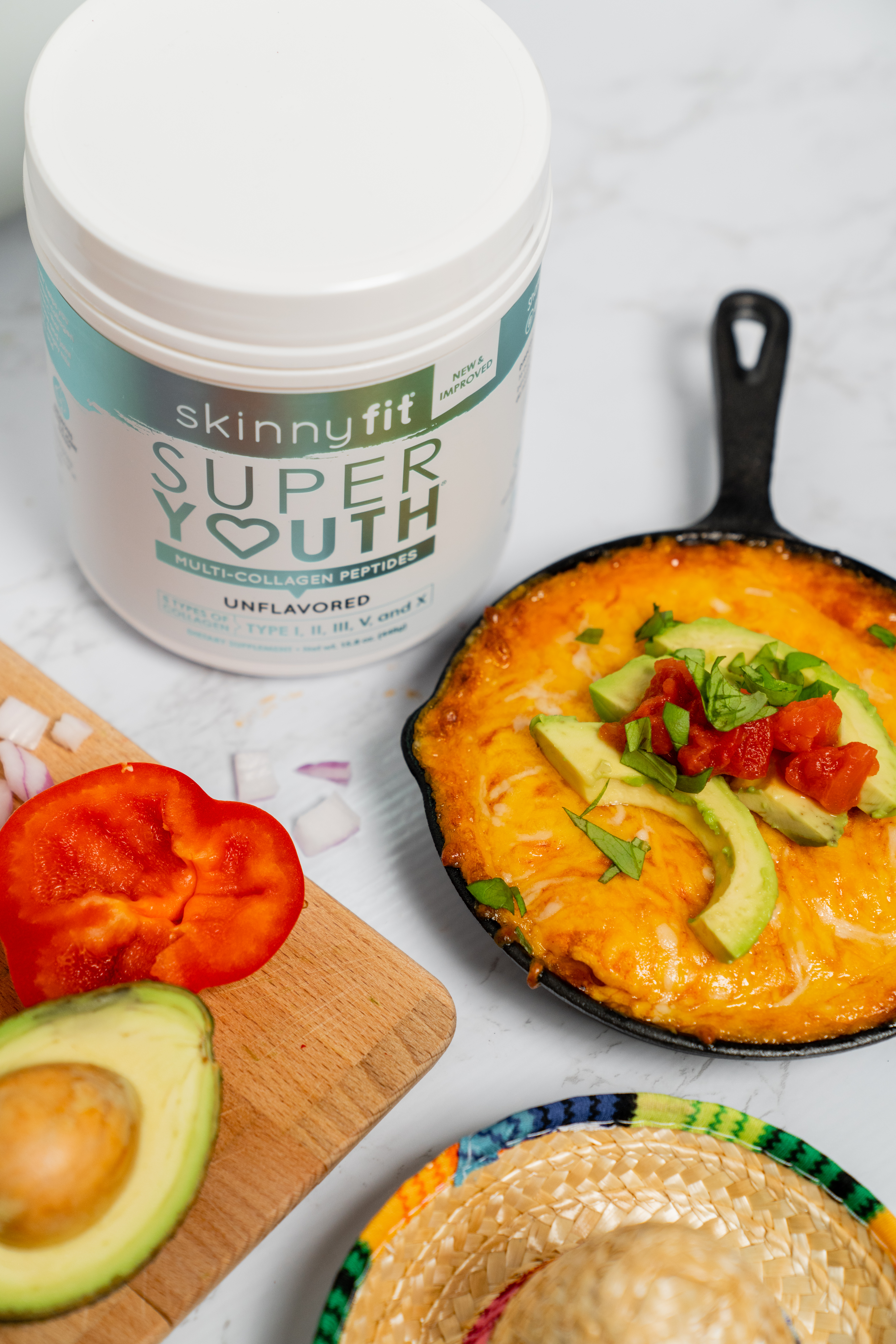 Are Veggie Enchiladas Healthy?
Not all easy vegetarian recipes are healthy, but the veggie enchiladas recipe I'm sharing today is! So many of the vegetarian recipes for dinner I've found use fake meat and cheese products, which are full of artificial, gut-disturbing ingredients. They may be tasty and filling, but they're not so healthy. A huge reason these veggie enchiladas are one of my favorite, easy vegetarian recipes is that it's tasty, filling, AND healthy! For this recipe, I swapped usual flour tortillas for corn tortillas, beans in place of meat, and a hefty scoop of collagen. Not just any collagen, though. Super Youth collagen. This hydrolyzed collagen is top-notch for its easy digestibility (you're welcome, gut!), completely unnoticeable taste, and its anti-aging benefits. Plus, it adds an additional 14 grams of protein, which vegetarians are always looking out for!
How to Make Veggie Enchiladas Recipe
My favorite vegetarian recipes for dinner call for lots of flavor, and little effort. This small serving enchilada recipe for two is as easy as it gets, all you have to do is continue to layer your ingredients.
Start by preheating your oven to 425°F. Grab your cast iron skillet, and lay down a corn tortilla layer. If you're using small tortillas, you may need two or three, or if using larger tortillas, one should work. Next, layer with cheese, diced tomatoes, onion and red peppers, and black beans. Add a bit more cheese, then another corn tortilla layer. Continue the process one more time, making sure the corn tortillas are the final layer. Combine your enchilada sauce and Super Youth collagen together, then spoon over top your layered enchiladas. Sprinkle another handful of cheese on top of the sauce and bake for about ten minutes in the oven. Once done, add sliced avocados, more tomatoes, and cilantro. So simple, and so delicious! 
Mentioned In This Post
SkinnyFit Unflavored Collagen
Look and feel younger with Super Youth Multi-Collagen Peptides! This versatile collagen powder includes 5 collagen types from 4 natural sources to restore youthfulness from the inside out.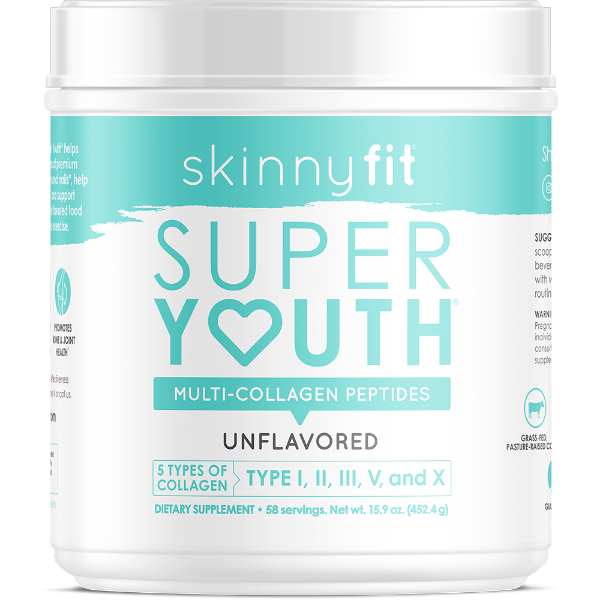 Veggie Enchiladas Recipe
Simple, single-serve veggie enchiladas
Prep Time: 20 min
Cook Time: 10 min
Total Time: 30 min
Serving Size: 2 enchiladas
Ingredients
6 corn tortillas
½ can beans
½ can diced tomatoes
½ diced red peppers
¾ bag shredded mixed cheese
1 quarter red onion
6 tablespoons enchilada sauce
½ avocado
1 scoop Unflavored Super Youth
Steps
Preheat the oven to 425 degrees Fahrenheit.
In a small cast-iron skillet, layer a corn tortilla.
Add a thin layer of shredded cheese, a teaspoon of diced tomatoes, a teaspoon of onions and red peppers, and a tablespoon of black beans.
Add more shredded cheese on top and top it off with another corn tortilla.
Repeat this process one more time, right on top, for a combined two layers of filling.
Mix enchilada sauce and Unflavored Super Youth together in a bowl
Once you finish the other layer of filling, top it off with another corn tortilla and add about three tablespoons of enchilada sauce mix on top.
Sprinkle a handful of cheese on top of the enchilada sauce.
Place skillets in the oven for about 10 minutes
Once out of the oven, add avocado slices, diced tomato, and cilantro right on top.