Jump To Recipe
The warmth of summer always revs up the urge to nosh on frozen treats. There's just something about laying by the water in a cute, new suit sipping on something chilled and sweet that makes a girl feel good. Spoiler alert: Sugar and calories still count poolside, though. (No matter how much we try and pretend like they don't!)
That's why when cravings call, it's smart to have a healthy slushie on hand, particularly this frozen watermelon slushie. It will satisfy your need for something cold and delicious, and won't leave you feeling like you've hit your limit after just one glass. Full of vitamins and nutrients, this watermelon slushie recipe will make your pool the spot to be all summer long!
Health Benefits Of Eating Watermelon In Summer

Not only is this pool-side slushie perfectly refreshing and yummy, but it's also filled with these nutritious watermelon benefits: 
It's hydrating. The name itself gives it away—watermelon is about 92% water! While only one-fifth of our daily water intake comes from foods, watermelon is still a much better supplement than dehydrating summertime snacks. Think poolside staples like salty chips and sugary soda. Dehydration is real and has serious side effects. Without enough water, our skin can become dry and our bodies can become fatigued. Watermelon is a great way to hydrate and revive our bodies when we're in the hot sun.
It reduces muscle soreness. This watermelon slushie recipe may just double as a post-workout drink! Watermelon contains an amino acid called citrulline. Citrulline has been shown to reduce soreness and lower heart rate in a quick and natural way. As shown in one study with recovering athletes, watermelon juice is, in fact, one of the best ways for the body to absorb citrulline, and it helps the body to recover faster in a 24-hour period than without the use of citrulline. 
It's Ayurveda-approved. Ayurveda, one of the world's oldest healing systems, tells us to eat warming foods in cool, winter months and cooling foods in the heat of summer. So it's a no-brainer that this healthy watermelon slushie gets the Ayurvedic seal of approval. Watermelon is also a natural diuretic and is easily passed through the digestive system, making it the ultimate Ayurvedic treat.
It's rich in lycopene. Lycopene is a strong antioxidant that also plays a factor in the red pigment in watermelon and tomatoes. This powerful compound supports heart health, helps to soothe sunburns, and boosts immunity. One study of lycopene even showed the antioxidant played a factor in preventing Alzheimer's and some forms of cancer. 
It has plenty of vitamins A & C. Watermelon is rich in the body's key vitamins A and C. Beta-carotene is the type of Vitamin A responsible for supporting eye health and it can even help prevent macular degeneration. Vitamin C is a micronutrient that plays a huge part in helping the body fight off free radicals. Watermelon has been said to provide about 17% of the body's daily value of vitamin A and 21% of vitamin C. 
YOU MAY ALSO LIKE: This Frosé Recipe Is The New Drink Of The Summer! (+How To Make It At Home)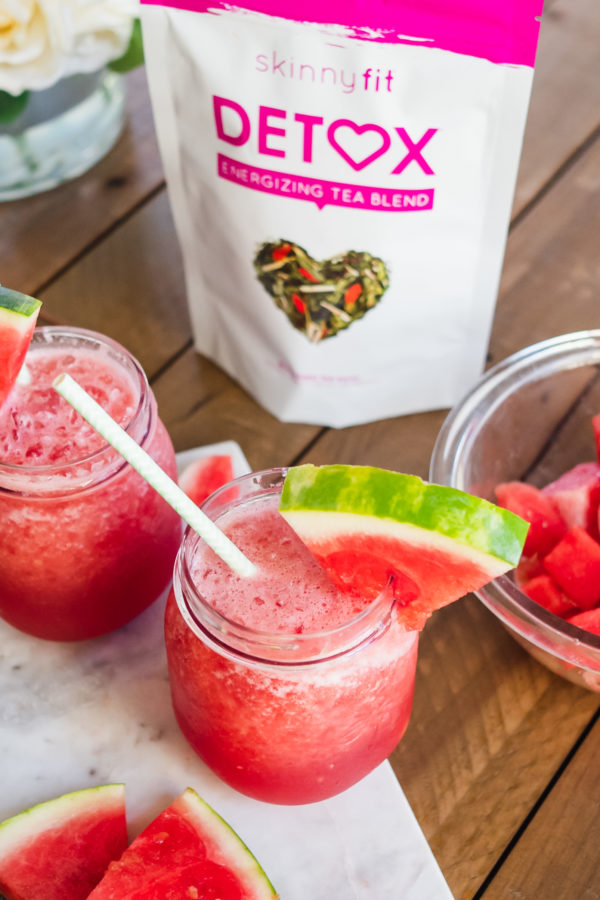 How To Make A Healthy Watermelon Slushie

You can make this watermelon slushie recipe for any occasion and it will be an instant hit! Just like sneaking veggies into smoothies, we snuck SkinnyFit Detox into the mix here. What's a healthy watermelon slushie without a little detox action, anyway?! Aside from watermelon's natural detoxing properties, Detox's green and oolong tea ingredients also help to cleanse and clear the body. 
Summertime fun doesn't have to be all or nothing. This frozen watermelon slushie gives you the best of both worlds—icy and fruity, and healthy and hydrating. Whether you enjoy it after a sweaty gym sesh or during a dip in the pool, this slushie is a summer favorite to sip all season long. The best part of it all? This watermelon slushie recipe only takes 5 minutes to prepare. Now hop to it!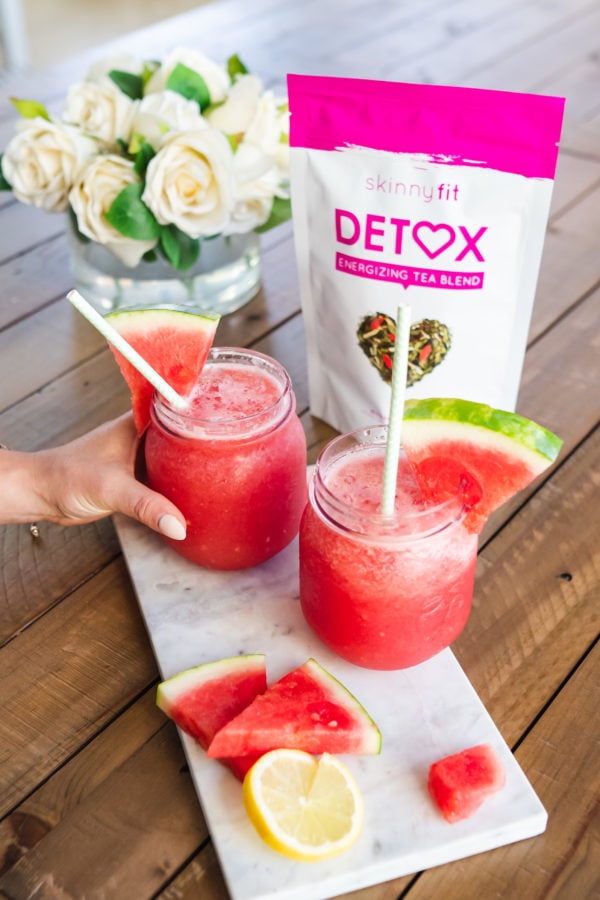 Healthy Watermelon Slushie Recipe
Looking for a delicious and healthy way to cool down on a hot summer day? Try easy watermelon slushie recipe that only takes 5 minutes to make!
Prep Time: 5 minutes
Cook Time: -
Total Time: 5 minutes
Serving Size: 2 Slushies
Ingredients
2 cups of frozen watermelon chunks
1 cup of SkinnyFit Detox, brewed and chilled
2-3 cups of ice cubes
2 tbsp of agave nectar
Steps
Mix all ingredients in a blender until frothy
Garnish with a watermelon slice
Serve immediately