Jump To Recipe
If you really want to make an impression at your next holiday gathering, girls night in, or dinner party, you've got to try this healthy winter champagne cocktail. Not only is it delicious, but the dazzling gold sugar rim and ombre effect will certainly WOW your guests!
In general, champagne is a crowd favorite. It's simple, bubbly, classy and whether you're giving a toast or celebrating something special, this holiday cocktail won't disappoint.
How To Make A Blackberry Champagne Holiday Cocktail

The bright and vibrant reddish-purple hue that creates the ombre effect is actually a healthy blackberry simple syrup made with SkinnyFit Detox. SkinnyFit Detox fights bloating, releases harmful toxin buildup, and helps speed up your metabolism to accelerate weight loss! (Although there is sweetener in the recipe, keep in mind that this recipe serves up to 4-8 people so the sweetener included in each cocktail is pretty minuscule).
SkinnyFit Detox has 13 superfood ingredients and a naturally delicious peach flavor and when paired with fresh blackberries, this is the perfect winter champagne cocktail.
Important Recipe Notes:
Prior to pouring your cocktail, dip the rim of the champagne flute into a shallow container of water or sugar water and then dip the rim into the gold sugar. This simple step adds a huge wow factor to the blackberry champagne and also adds a little extra sweetness!
When pouring the champagne into the champagne flutes, make sure to tilt the glass at a 45-degree angle to avoid adding excess carbonation into the blackberry simple syrup. If you pour the champagne into the glass without doing this, you'll find the champagne will overflow and mix too quickly with the blackberry syrup, ruining the ombre effect in the process.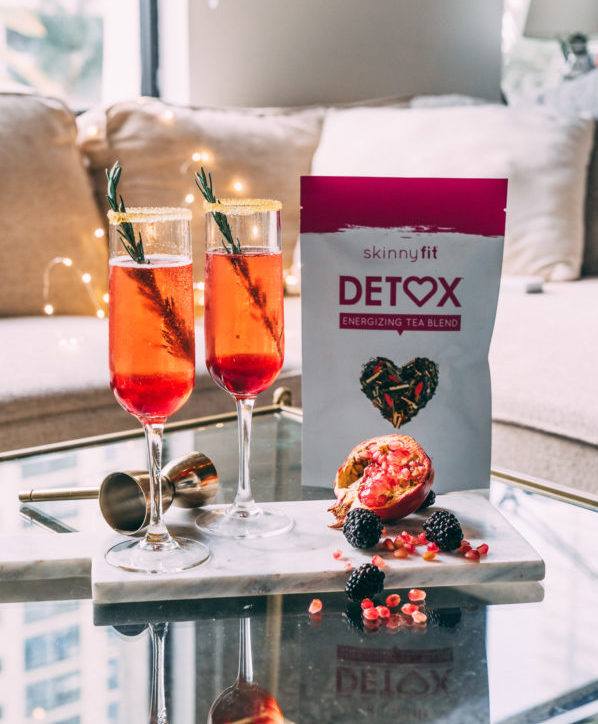 Winter Champagne Cocktail Recipe
If you want to make an impression at your next holiday gathering, you've got to try this healthy winter champagne cocktail with gold sugar rim and ombre effect!
Prep Time: 0
Cook Time: 20 minutes
Total Time: 20 minutes
Serving Size: 4-8 cocktails
Ingredients
1 cup SkinnyFit Detox, brewed
1 cup fresh blackberries
1 cup granulated sweetener
1 bottle champagne
Fresh cranberries, pomegranates, or rosemary for topping
Gold sugar for rim
Steps
In a small saucepan, combine blackberries, sweetener, and Detox. Bring to a boil on high heat, and then reduce to a simmer and let cook for approximately 15-17 minutes. The blackberries will become soft and bright in color and a pinkish purple syrup will form. Take off of the heat and drain the blackberries, keeping the syrup in a separate bowl. Set both aside and allow to cool.
Once blackberries and blackberry simple syrup are cooled, spoon about 4 tablespoons of syrup into the bottom of each champagne flute (this recipe makes 4-8 drinks)
Top with champagne.
Garnish with cranberries or pomegranates, and a sprig of rosemary.