How To Make A Green Juice Superfood Shake Taste Fruity & Delicious!
Written by: Spencer Higgs - Mar. 5, 2020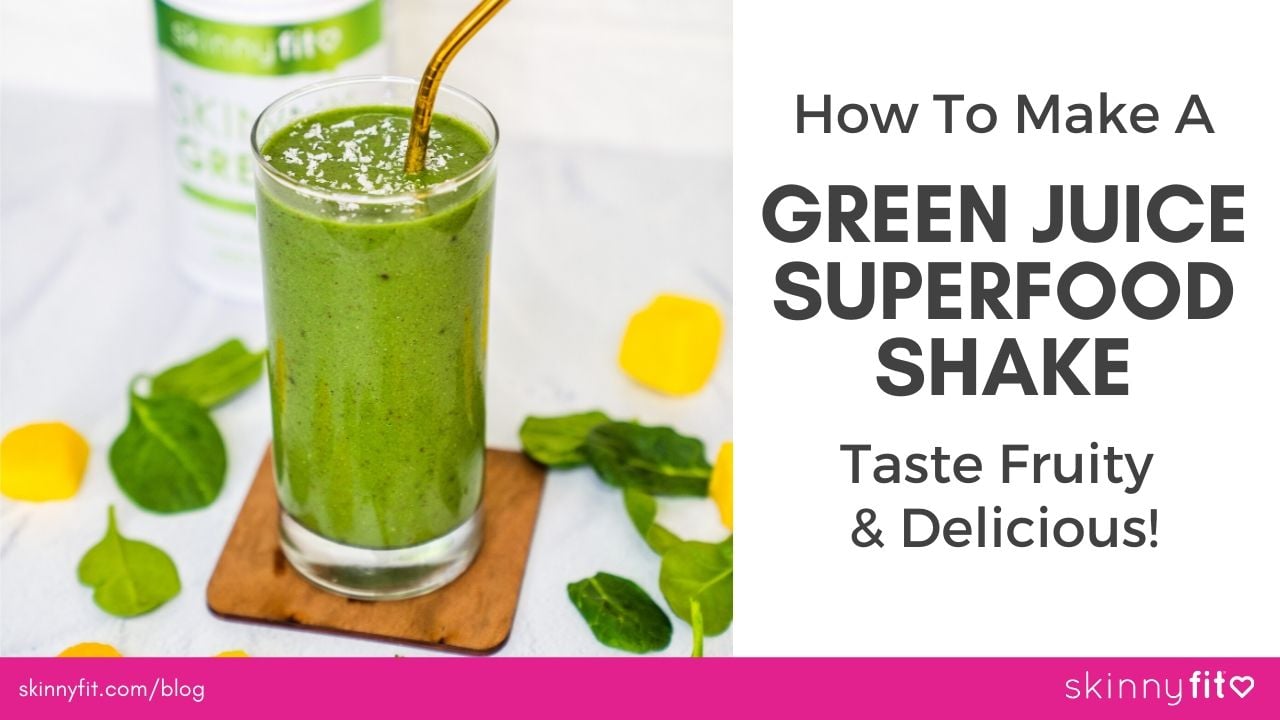 I spat it out immediately. Don't ask me why, but I couldn't believe my very first wheatgrass drink tasted so much like… grass! For the next 8 or so years, you couldn't pay me to drink a green smoothie or superfood shake of any kind. I'd get my vegetables from salad, thanks. 
But flash forward to today and my view of drinkable greens is a lot different. In fact, I love them! Obsessed, even, if you ask my friends. 
I start 2 to 3 mornings per week with a healthy green superfood smoothie that's easy to make, packed with metabolism- and immune-boosting nutrients—and a far, far cry from the blended-up lawn cuttings that almost turned me away from green drinks for good. I've spent a lot of time honing my smoothie skills, and today I thought I'd share one of my all-time favorite recipes with you.

Buckle up, we're goin' green!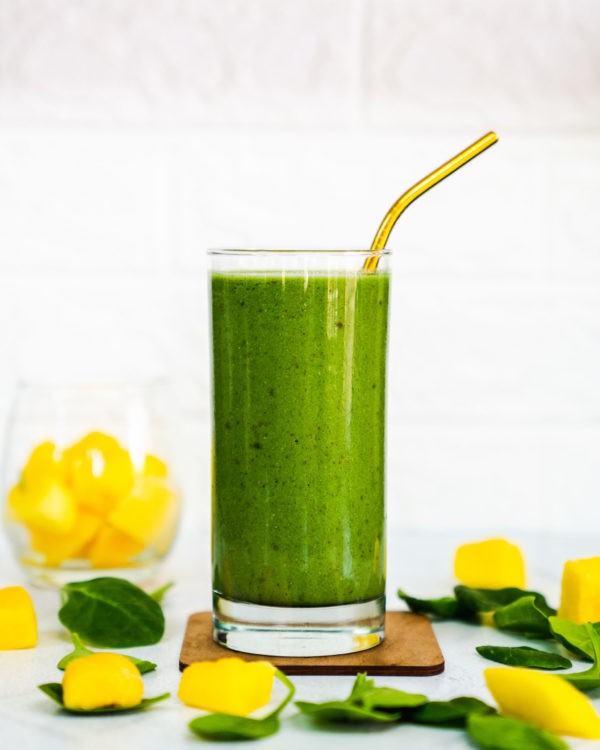 The Golden Rule For Green Superfood Smoothie Recipes

If you're committed to transforming your life, it's hard to beat incorporating a superfood shake into your daily diet.
Sure, the term "superfood" gets used generously these days, but the fact of the matter is, certain plants are exceptionally dense with nutrients that work wonders when we consume them. If you ever run into superfood-naysayers, just introduce them to one of my all-time heroes, Dr. Terry Wahls. In 2000, Dr. Wahls was diagnosed with multiple sclerosis (MS) and soon bound to a wheelchair. But her knowledge of nutrition and dedication to eating superfoods not only got her back on her feet, literally, but to this day she's riding her bicycle, swimming, and helping others to reclaim their lives by eating nutrient-rich foods and avoiding foods with toxins. 
But eating superfoods regularly doesn't just help to heal the body, it helps keep us physiologically and cognitively sharp. Because of this, I recommend having a goal in mind when you pull out your blender to make your green superfood smoothie.
Physical goals

We all have goals for our physical fitness and body weight, but these goals vary from person to person. Having a clear understanding of what you want to achieve physically from incorporating blended greens into your diet will help you know what foods and supplements will work best for you personally.
For instance, if you're trying to gain weight and muscle, you'll want to add more protein and special carbs to your smoothie. Go for protein in the form of nuts, yogurt, or protein powder and collagen powders. 
If you're trying to lose weight, you may want to consider low-carb smoothies, or smoothies that act as meal replacements, instead of supplements. Meal replacements tend to be higher in calories than supplement shakes, but with fewer calories than your typical meal. This way you end up burning more calories throughout the day. Burning more calories than you consume equates weight loss. [1]

Nutritional goals

In order to perform well physically, we need to eat well nutritionally. And, much like our physical goals, our nutritional goals depend on our own circumstances.
Many athletes, for instance, focus on intaking foods that help decrease lactic acid buildup and inflammation. This helps their bodies recover faster and more sufficiently between workouts and performances. 
On the flip side, a businessperson may choose to focus on enriching their diet with nutrients that help them increase focus and mental clarity. Yet another person may choose to structure their diet to help bring their digestive health into equilibrium. 

Emotional goals

Think there's no correlation between your food and your frame of mind? Think again! Our bodies are under constant bombardment from stress, all day every day. 
Excessive screen time, heavily processed foods, alcohol, air pollution, disruptive experiences, workload, sleep deprivation, hormone imbalance, life changes, life paces, and social media are all examples of stressors that have physiological impacts on our emotional state. And that's in addition to physical implications. 
The good news is, adaptogenic superfoods can help counter the effects of stress. Even better news—this green superfood powder smoothie has some seriously powerful adaptogens in each sip!
If you're new to micronutrition, adaptogens are plants with certain phytochemicals in them that contain pharmaceutical properties. These nifty little nutrients help support our physiological response—and ability to adapt to—stress, be it from excessive workloads or even cognitive impairments from cancer chemotherapy. [2], [3]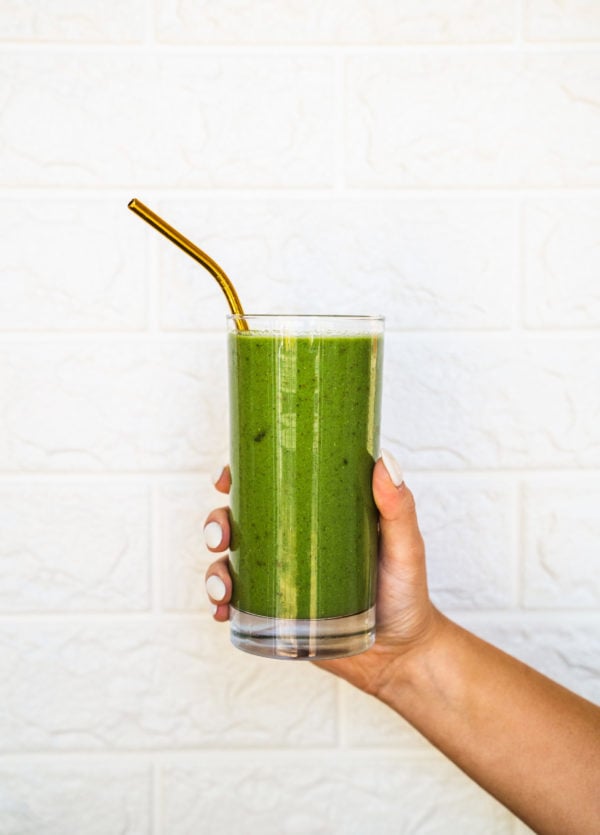 Benefits Of A Green Superfood Powder Smoothie

Because you can get such high concentrations of nutrients in a single cup, smoothies work great to amplify your physical, nutritional, and emotional wellbeing. 
But have you ever added a green superfood powder to your smoothie? This one extra ingredient instantly elevates the taste and nutritional value even more. 
Of course, there are thousands of powders on the market. But too many of them lack the taste, solubility, quality, and transparency of ingredients for me to recommend. Others lack the all-in-one breadth of micronutrients I personally look for in a green superfood powder smoothie.
The exception to most supplements on the market, SkinnyFit's crazy-popular (and crazy–good) Skinny Greens is packed with 34 superfoods that help reverse the impact of our fast-paced lives. These include known adaptogens that have been used for thousands of years as mood-boosters. There are also 17 probiotics that help renew digestive balance and 3 amazing metabolism-boosting, natural slimming ingredients. 
But let's be honest. Healthy is great and all… but we can't forget about taste, right!? I mean, I wouldn't want you spitting out your superfood shake like it's some kind of wheatgrass water!

Spoiler Alert: SkinnyGreens contains wheatgrass!!! You just can't taste it 😉
But we're not too worried about that. It's a perfect blend of sweet and leafy flavors—easy-drinking with water alone. But added to this smoothie, Skinny Green's subtle flair of tangy green apple subdues the recipe's rich mango-date combo for a surprisingly balanced ambrosial flavor.
Green Superfood Shake Nutrition Facts
Calories: 250 

Protein: 6g

Carbs: 50g

Fat: 7g

Sugar: 38g (natural sugar from dates and mangos)

Fiber: 11g
Green Superfood Shake Recipe
Ingredients
1 scoop of SkinnyFit Skinny Greens
¾ cup of frozen mango
2-3 pitted dates
1 cup of spinach or kale
1 tbsp chia seeds
1 cup non-dairy milk
½ cup ice
Directions
Place all ingredients in a powerful blender and mix until smooth. Enjoy!
Nutrition
Wellness