Jump To top
Raise your hand if you've been intimidated by the free weights section of the gym…🙋🙋🙋
Who wants to squirm through the maze of weight lifters and grunters only to stare at the weight rack unsure of where to start? No thanks!
But the truth of the matter is, training with free weights is the perfect way to get the lean, sculpted arms most of us are striving for. It can seriously expedite the toning process and provide great results that even beginners can achieve.
We have an awesome upper body workout for you that you can do right at home.
That's right—you don't have to rely on the gym to get a killer upper body workout with weights!
BUT FIRST, let's chat about the overall benefits of weight training before we dive into how to workout upper body at home.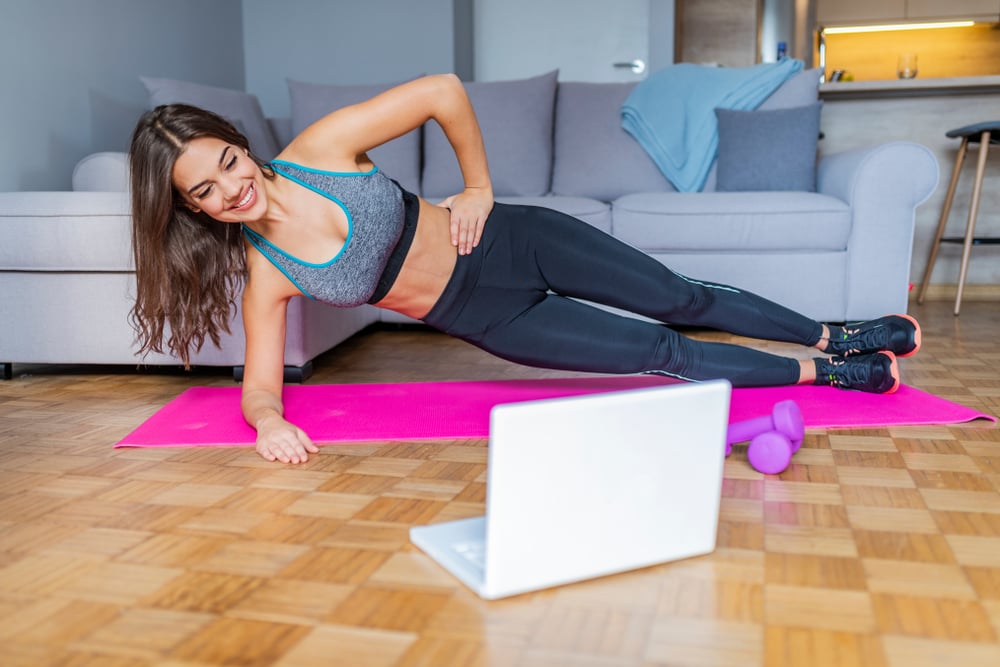 The Health Benefits of Working Out With Weights

There are tons of proven health benefits of working out with weights. One study by the American Academy of Cardiology found that static activities, like strength training with weights, were even more effective in reducing heart disease risk than other cardio-based exercises like walking, running, or biking.
Strength training is a type of exercise that uses resistance to contract your muscles and help you increase strength, build muscle mass, and tone up! Similarly, circuit training, the workout we're sharing with you today, may also incorporate resistance with weights while moving through a timed circuit of several short exercises. This can increase strength and muscular endurance, making it another great option for an upper body workout at home!
RELATED: 7 Simple Exercises You Can Do While Watching TV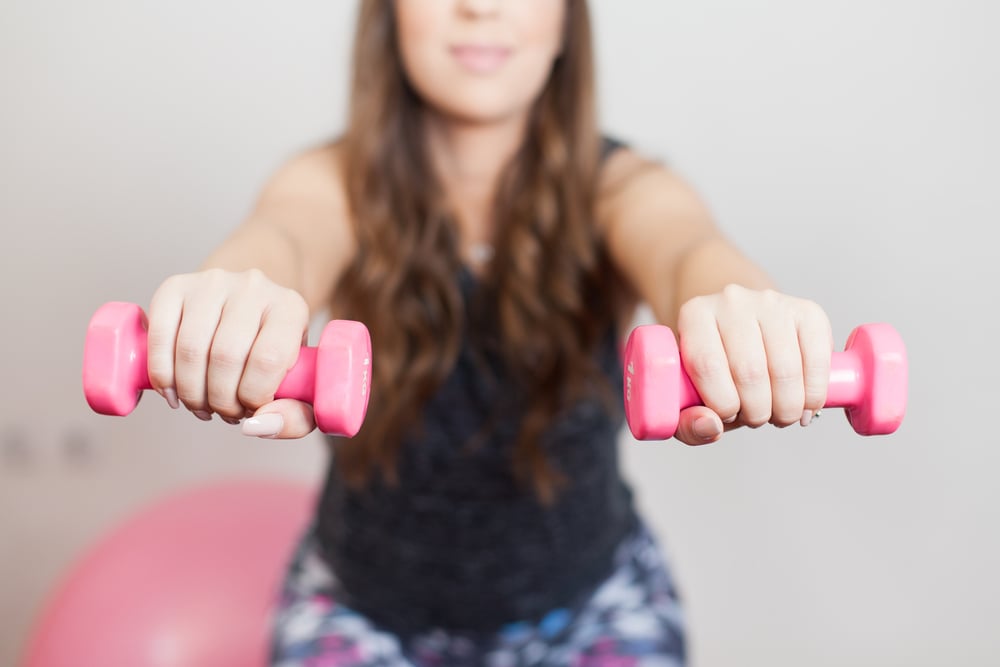 How To Workout Upper Body At Home

An upper body workout at home with dumbbells is super easy to do as you're watching TV, waiting for dinner to cook, or as the kids nap. And the best part? All the privacy and none of the grunting!
A single set of dumbbells can be much more powerful than you think. They're affordable—you can get a set for as little as a few bucks—and they're easy to tuck away when your workout is finished. They also come in a range of weights, allowing you to start low and gradually work your way up!
If you're new to upper body exercise or this is your first upper body workout at home, start low—even a pound or two can really make you feel the burn 🔥when you're doing lots of reps quickly during a circuit or resistance training workout.
As you begin to get stronger and your workouts feel like they're getting easier, try increasing your dumbbell weight. This is a great way to continue to challenge yourself while keeping things simple. No need to learn new or complicated techniques, stick to the basics and increase your dumbbell weight by a few extra pounds! A small weight increase can make a big difference when doing a strength training or circuit training workout with high reps.
If you're really looking to expedite your toning, try an amino acid supplement like SkinnyFit Repair and Recover. Repair and Recover is formulated to fuel your muscles with the nutrients they need to recover from workouts faster and to build stronger, leaner muscle!
RELATED: The Best Total Body Dumbbell Workout To Tone Up & Feel Strong!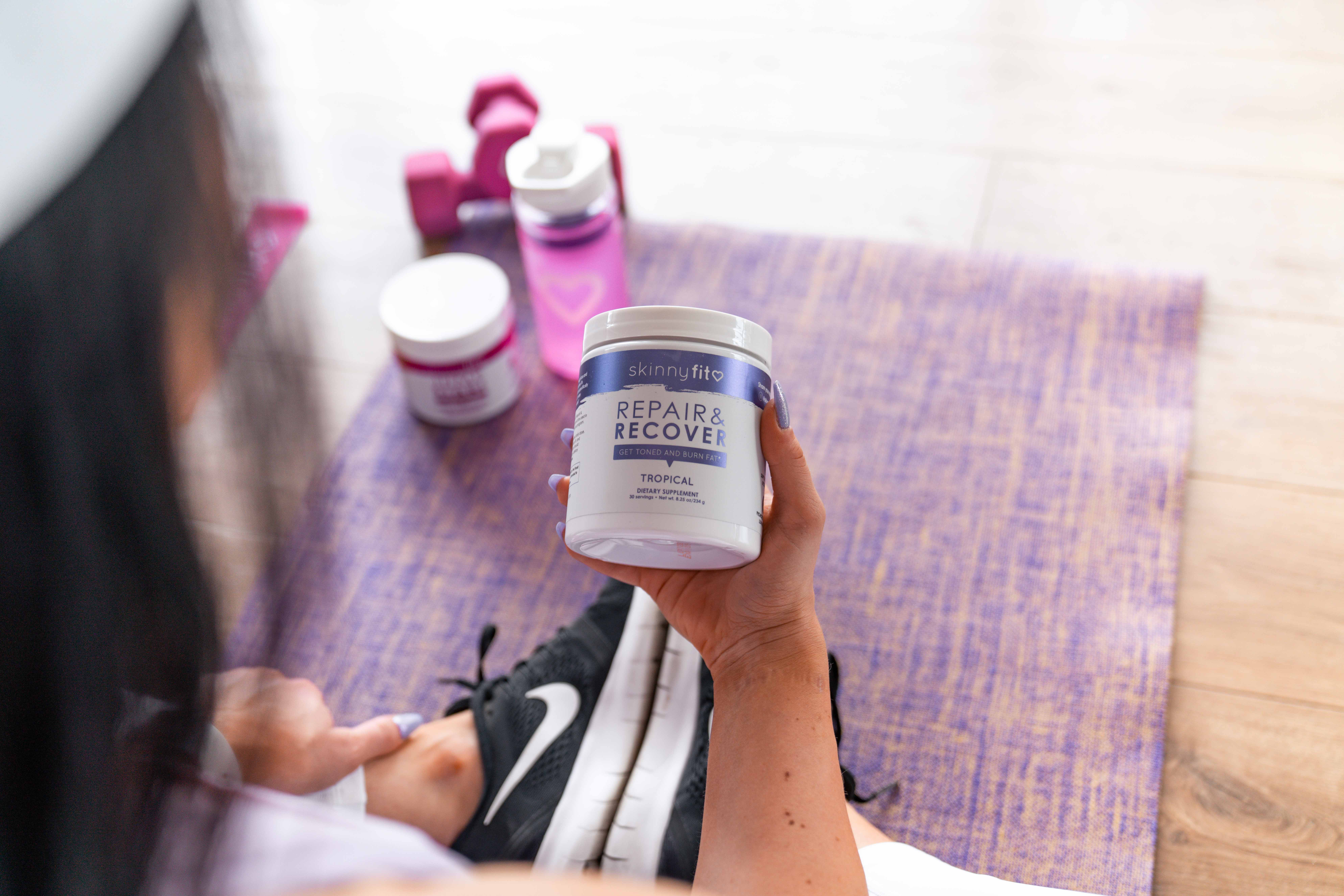 The Best Upper Body Workout For Women

Ready to learn how to workout upper body at home? Without further ado, here are 5 of the best circuit training exercises to tone up your arms and upper body from the comfort of your own home!
Equipment Needed: Dumbbells
Circuit Training: 45 sec on, 15 sec off
Complete 3 rounds with 2 min rest between rounds
Beginners: 2 rounds
Advanced: 4 rounds
Tricep Kickbacks
Chest Press
Shoulder Press
Front Raises
Side Plank – Reach