How To Make A Watermelon Detox Drink To Fight Bloating
Written by: Liz Brown - Jun. 9, 2018
If there's one thing I love on a hot summer day it's a cold, refreshing drink to help beat the heat ☀. I don't know about you, but sometimes water doesn't quite do the trick for me! On a day like this, I'm looking for something with a little bit more flavor, pizazz, and loaded with vitamins and minerals to help fight off free-radicals from all the fun in the sun. This watermelon detox recipe is here to save the day!🍉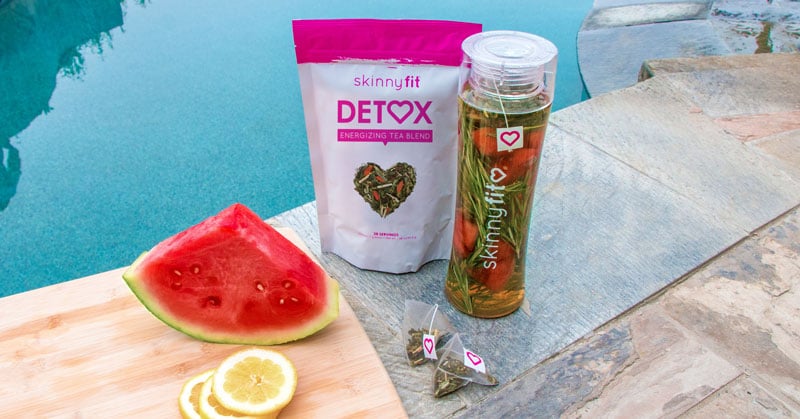 One of the many downsides of pre-packaged flavored drinks on the market (the ones that claim to be healthy) are actually loaded with added sugar. (Not to mention the fact that a lot of the time the added sugar is artificial!) 🙅‍♀️ This presents two problems:
The sugar actually decreases your hydration levels making you quest for hydration pretty much redundant 💦.

Artificial sugar causes bloating (which is definitely not what you want)
RELATED: How To Detox From Sugar In 5 Simple Steps (+ Why You're Addicted!)
Watermelon is about 92% water but has a subtly sweet flavor without being overpowering. Watermelon is known for being an incredible source of vitamins and carotenoids. Carotenoids help your body convert alpha and beta-carotene to Vitamin A (which watermelon is filled with!)
This watermelon detox is not only hydrating and refreshing, but it helps flush your body of unwanted toxins that cause uncomfortable belly bloat!
To boost the flavor profile even more, we add fresh rosemary! Rosemary is an incredible herb for your skin, hair, and your gut! It is actually known to detoxify your gallbladder and rids the excess toxins produced by your liver!

RELATED: How To Make The Most Delicious Skinny Mango Margarita Recipe!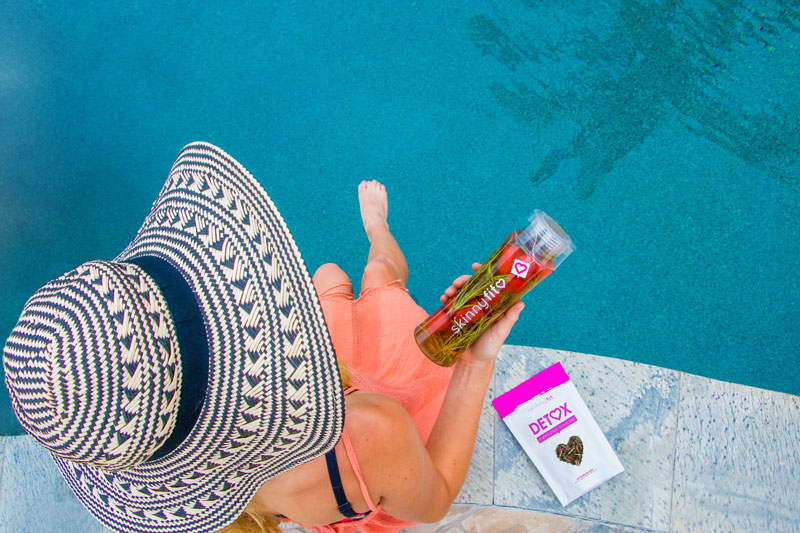 Fight Bloating With SkinnyFit Detox

Of course, the star of this recipe is SkinnyFit Detox. SkinnyFit Detox is a blend of 13 powerful superfoods that reduce bloating, increase metabolism, and boost energy! Drinking one cup of SkinnyFit Detox each day can help clear out toxins, shed water weight, and nourish your skin in a safe and healthy way. Accelerate weight loss and feel pounds lighter with just one cup per day!
What makes SkinnyFit Detox different than any other detox on the market is that it is laxative free, which means you'll never have to worry about finding a bathroom unexpectedly! It also allows you to detox completely naturally so you can feel beautiful inside and out! 👌🏼
This unique Detox blend has a natural sweet peach flavor that pairs perfectly with the watermelon and rosemary for a light and refreshing summer beverage!
Give this watermelon detox a try next time you have a sweet tooth! The natural sweetness will curb your cravings and help you reach your fitness goals much faster because there is no added sugar!🙌🏼
Click Here to order your bag of SkinnyFit Detox and start feeling pounds lighter today!
For more Detox recipes, Click Here!
Watermelon Detox Recipe
Ingredients
8 oz SkinnyFit Detox
1-2 cups cubed watermelon
3-5 sprigs rosemary
Ice cubes
Directions
Steep SkinnyFit Detox in 8oz of hot water for 5 minutes and then cool completely in the refrigerator (about 10 min)
Once the Detox is cold, add ice cubes, watermelon cubes, and rosemary springs and enjoy!
Nutrition
Wellness