Jump To Recipe
If your diet is anything like mine during the holiday season, chances are, it consists of a lot more sugar and sweets than the rest of the year. It feels as though everything in sight is likely covered with some form of, what I like to call, "holiday cheer" (AKA extra calories). Even normal things like coffee can quickly go from 30 calories (from 16 oz. of drip coffee with milk), to a whopping 440 calories (from a 16 oz. peppermint mocha from Starbucks). And, let's be honest, how can anyone resist a delicious peppermint mocha coffee around the holidays? Sometimes, simply standing in line at a coffee shop is all takes to change your mind and order the sugar-filled latte instead of your usual low-calorie cappuccino.
Maybe I'm just a sucker for seasonal flavors, or maybe it's the "You Only Live Once" mentality creeping up, but I am ALL for indulging in the little things, especially around the holidays. Unfortunately, coffee shops aren't always calorie-conscious with their seasonal items which can easily turn ordering something like a peppermint mocha coffee into a guilt-filled debate rather than a little indulgence. But, what if I told you that you can indulge in those guilty holiday pleasures without actually feeling guilty about them? Well, this skinny peppermint mocha recipe has everything you'd ever want in a holiday drink—coffee, chocolate, and peppermint, all for a FRACTION of the calories and sugar as a Starbucks peppermint mocha! 
How Many Calories Are In A Peppermint Mocha?

Peppermint mochas were made popular by none other than the major coffee-making conglomerate, Starbucks. If you're wondering what's in one and how many calories it contains, you're in for a rude awakening. A grande peppermint mocha from Starbucks contains two shots of espresso, four pumps of mocha sauce, two pumps of peppermint syrup, and two percent steamed milk. What most people don't realize, however, is that the mocha sauce and peppermint syrup is practically all sugar. This not only skyrockets the calorie count, but also exceeds your daily recommended sugar intake with just one 16 oz. serving. In fact, one grande peppermint mocha from Starbucks contains 54 grams of sugar! That's over double the daily recommendation for women (which is only 25 grams per day). What's even more alarming is that one 15-year study found that people who get 17% to 21% of their calories from added sugar have a 38% higher risk of dying from cardiovascular disease compared with those who consumed 8% of their calories as added sugar. (1, 2) 
Skinny Peppermint Mocha Calories

Thankfully for you (and your health), you can still enjoy a delicious peppermint mocha without all the calories. I created this skinny peppermint mocha to help make indulging in your favorite holiday treats guilt-free. My healthier version is not only fewer than 90 calories, but also contains fewer than 8 grams of sugar (which is all natural, by the way!)
Nutrition Facts:

Total calories: 89 calories
Protein: 13g
Carbs: 9g
Fats: 0g
Sugar: 8g (sugar from milk)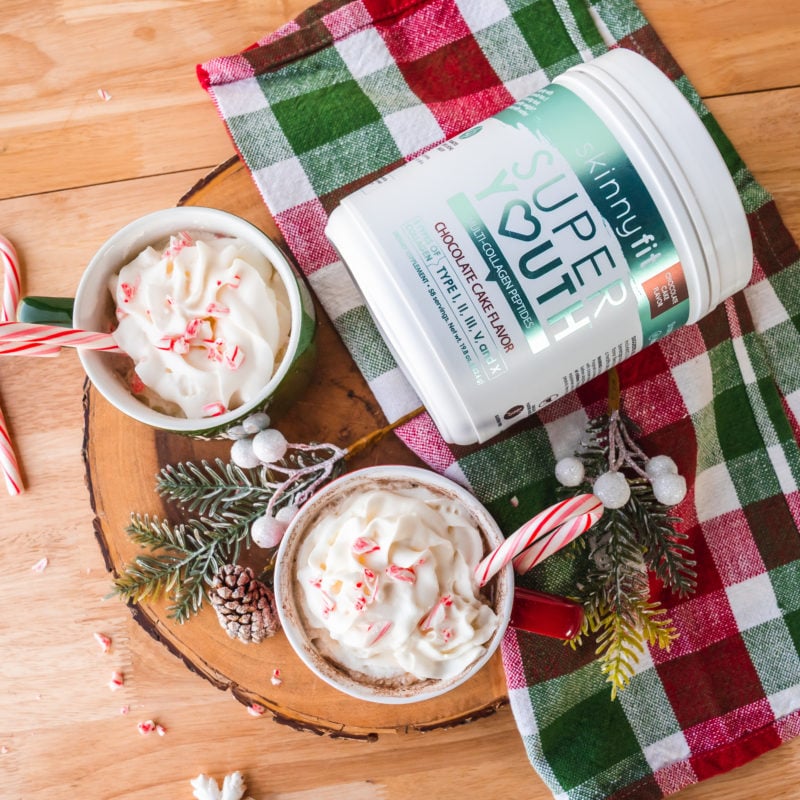 3 Reasons To Try This Skinny Peppermint Mocha Recipe!

1. It tastes like holiday in a cup

Every season has a signature flavor. Spring has all the herbaceous and floral flavors like basil, hibiscus, and lavender. Summer is all about citrus fruits and berries. Fall, of course, has pumpkin spice. And winter? Well, to me, nothing feels more like winter than chocolate and peppermint. This healthy peppermint mocha recipe has a rich and refreshing chocolate and peppermint flavor that pairs perfectly with a robust cup of coffee. 
2. It's easy to make at home

One of the benefits of making this particular peppermint mocha recipe is that you can make it yourself in the comfort of your own home. You won't need a fancy espresso machine either! All you need are a few items that you likely have in your cabinet already! If you typically spend a good portion of your "dining out" budget on signature coffees, you'll be able to gift yourself a ton of that budget back this year because you'll also be saving a ton of dough.
3. It's healthy!

By now, I'm sure you're wondering what makes this skinny peppermint mocha so healthy? For starters, I cut out all the added sugar from mocha sauce and replace it with chocolate collagen. Yes, it tastes like chocolate cake. If you haven't had the opportunity to try collagen yet, it contains incredible health and beauty benefits like smoother skin, healthier hair and nails, stronger bones and joints, improved gut health, and can even help with weight loss! All of these amazing benefits are due to the diverse collagen peptide blend found in SkinnyFit Super Youth Chocolate Cake collagen. SkinnyFit Super Youth contains five different types of collagen peptides, such as Types I, II, III, V, and X, and together, they have been shown to replenish your natural collagen supply and helps keep you looking and feeling youthful. (3)
What's great about adding SkinnyFit Super Youth Chocolate Cake to this recipe, is how easily it mixes and how delicious it is with coffee, without adding extra calories. And, there is no sugar added so you won't have to worry about hidden calories! Each scoop contains 7 grams of protein so it's a perfect way to curb cravings throughout the day. 
Now you can enjoy a delicious skinny peppermint mocha and still feel good about it!
RELATED: How To Make A Healthier, Dairy-Free Eggnog Recipe
Skinny Peppermint Mocha Recipes
This at-home skinny peppermint mocha recipe has everything you'd ever want in a holiday drink all for a FRACTION of the calories and sugar as a Starbucks peppermint mocha!
Prep Time: 5 minutes
Cook Time: 5 minutes
Total Time: 10 minutes
Serving Size: 1 serving
Ingredients
⅔ cup strong brewed coffee
⅔ cup nonfat milk, or preferred milk of choice
1 scoop Super Youth Chocolate Cake collagen
1/8 tsp peppermint extract
Candy cane for decoration (optional)
Steps
Combine coffee and half of the milk and warm in the microwave or stovetop until nice and hot. Stir in the Super Youth Chocolate Cake collagen and peppermint and mix until well combined. Pour into a heat safe mug.
Place the second half of the milk in a heat safe container and heat for 30-60 seconds until warm. Using the SkinnyFit Mini Mixer, whip the warm milk until it's frothed. Use a spoon to hold the froth in the cup and pour the warm milk into the mocha. Use a spoon to scoop the foam on top of the mocha. Serve hot with a candy cane.