Jump To Recipe
As the days start warming up, I start chilling out. And by this, I mean in my backyard, Ray Bans on my eyes and smothered in sunscreen beneath a floral Hawaiian shirt, loosening up with tropical drinks that I've been waiting for since autumn. 
What can I say?! From daiquiris to coladas, I have a soft spot for sweet tropical cocktails! And I'm going to share my all-time favorite recipe with you today—a Tropical Rum Smash, inspired by too many vacations to the Caribbean.
This strawberry-coconut kicker is the perfect thirst-quenching libation for these longer, sunnier days. But my favorite part is the tropical taste that instantly transports me to distant island paradises, like Aruba, Jamaica, Bermuda, Bahama. And let's not forget Key Largo or Montego! 
So sit tight, we're about to sip into a Kokomo state of mind. 😉 🍹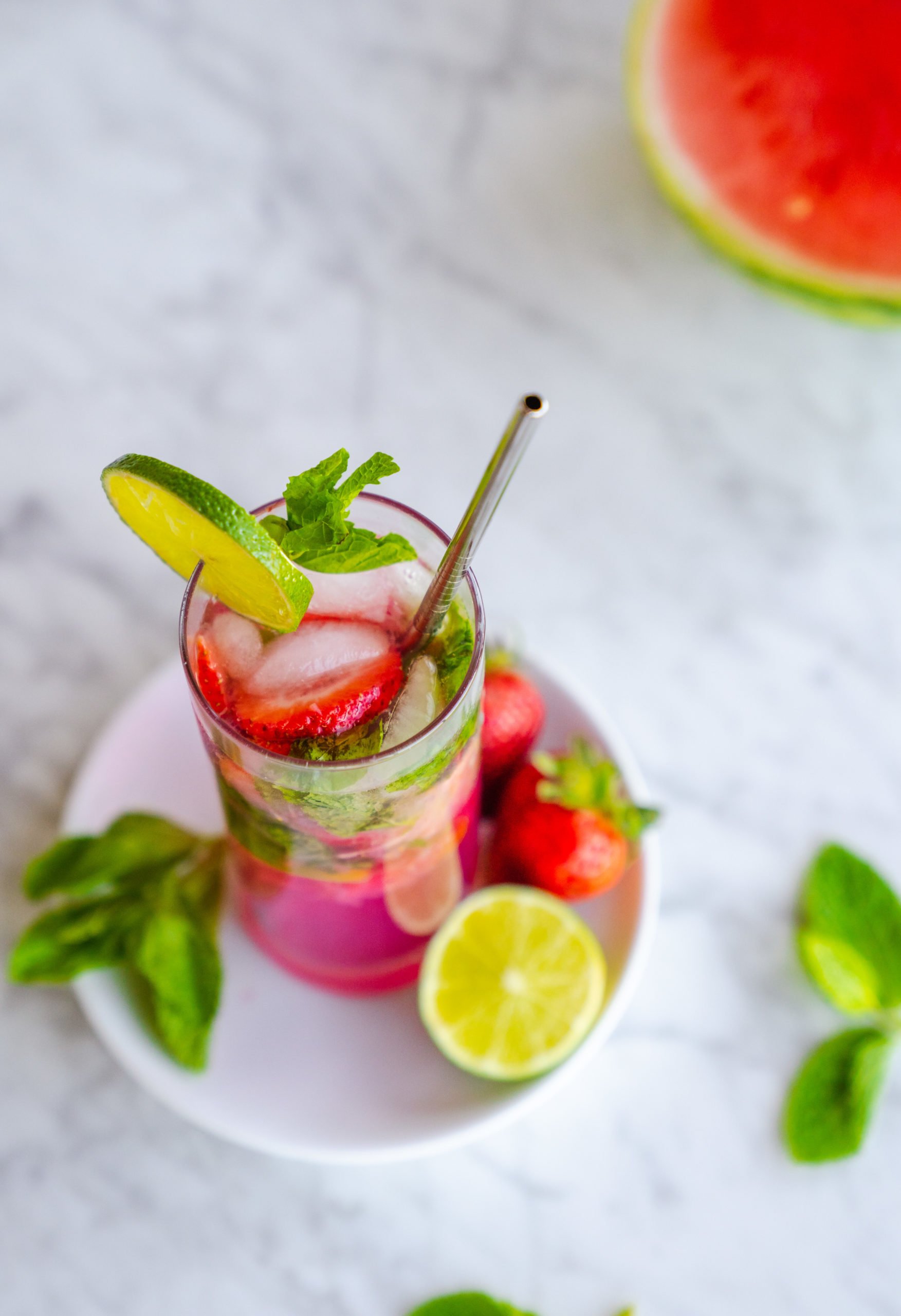 The History & Anatomy of the Perfect Tropical Rum Smash


Though their flavors and ingredients evoke warm sandy beaches and crystal clear waters, rum punch was first created in 17th Century Britain as sailors sought out alternatives to beer. But one of the oldest recipes comes from Barbadoes, and follows a rhyme as simple to remember as the drink is to make:
"One of sour, two of sweet, three of strong, four of weak."
That's to say, one part lime juice, two parts sweetener, three parts rum, four parts water.

But as the drink caught on and ingredients became more prevalent, the original rum punch inspired countless variations and new tropical cocktails, from rum runners to Bahamas mamas, and of course this tropical rum smash.
We'll first add muddled lime ("one of sour…") to a tall glass, followed by mint and strawberries ("two of sweet…"). We'll also be adding Super Youth Tropical Punch collagen powder to add even more tropical flavor while keeping our tropical rum smash on the slim side. 
Next, we'll be adding the staple ingredient of many boozy tropical drinks: rum. "Yar Har! Three of strong!" For this recipe, we'll use a light (AKA white) rum for its softer taste and make these tropical colors truly pop! 
Lastly, we top it off with calorie-free sparkling water for effervescent refreshment. Four of strong, but for tropical drinks like this, that rely on bursts of flavor, we won't be pouring in 4 parts, but rather just a splash or topper.

Why Use Collagen?

If you're a bit surprised that I add collagen to things like tropical cocktails… well, don't be. Collagen is a natural ingredient that our bodies need in order to maintain optimal health. (It even helps hide the years by tightening and strengthening skin. More on that below.) On top of that, because Skinny Fit has a wide selection of flavors, including a very discrete unflavored version, it's extremely versatile and can go in anything from delicious green goddess hummus dips to gluten-free pumpkin muffins to keto cauliflower pizza crusts for added nutritional value. So adding it to tropical drinks is far from far-fetched. 
Let's dive a little deeper into the benefits.
Great for building stronger joints & reducing joint pain

Speaking from experience, alcohol can certainly hide joint pain. But it doesn't actually help it. Collagen, however, does.
Collagen is found throughout our bodies, especially in the connective tissue in our joints. The thing is, by our mid-20s, the amount of collagen our bodies produce begins to rapidly decline. That's why, as we age, these crucial body parts begin to pop, crack, and hurt.
Luckily, Super Youth Tropical Punch contains collagen types I & II, which have been shown in studies to improve osteoarthritis degeneration and improve pain-free mobility. [1, 2, 3]
Improves hair, skin & nails

Take a look at the length and fullness of your hair, the smoothness of your skin, the sturdiness of your nails… collagen is responsible for all of it. Thinning hair, wrinkles, and brittle nails, are all signs that our body is calling for us to amp up our collagen intake. 
But nothing reveals our age like the health of our skin. Sun damage drastically depletes our skin's collagen levels, but Super Youth helps improve skin elasticity, helping to fight wrinkles and signs of aging. That's why, after taking collagen supplements (whether in water or a refreshing tropical drink), many people notice smoother, healthier skin.
Now that's something we can all cheers to!
A healthy alternative to sugary cocktail mixers

If you've read my other recipes, you'll know that I'm always looking for tasty ways to sneak a little nutrition into my boozy libations. 
With only 30 calories per scoop and 100% natural ingredients, it's a way healthier option than the vast majority of heavily sweetened, pre-made mixers that overstuff each ounce with refined sugar and synthetic additives. 
Another advantage to using flavored collagen is, unlike most mixers, when you're not chilling out with a tropical rum smash, you can use Super Youth Tropical Punch collagen to create healthy non-alcoholic tropical drinks that are uber-low calorie. Like delicious homemade collagen water, which turns ordinary chilled water into a sweet treat with a slightly tangy twist with just one scoop. 
But why you'd ever want to make anything besides tropical cocktails is beyond me!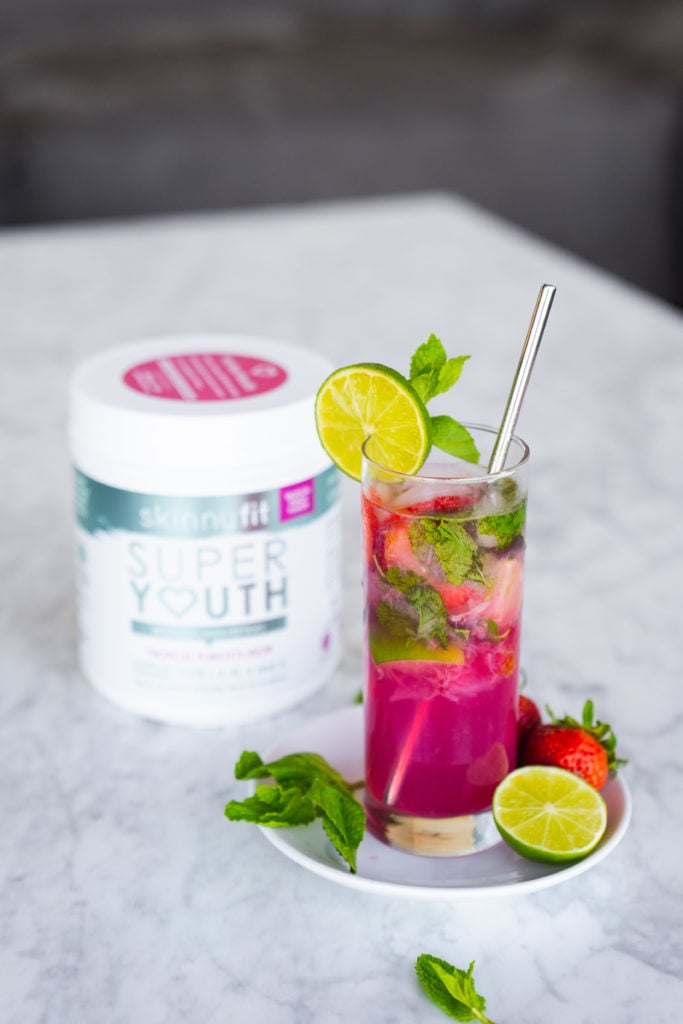 Tropical Rum Smash Recipe
This healthy Tropical Rum Smash is the perfect balance of sweet & refreshing. It's a taste of paradise at home and is loaded with skin-loving ingredients.
Prep Time: 5 minutes
Cook Time: -
Total Time: 5 minutes
Serving Size: 1 cocktail
Ingredients
½ lime, quarted
2 strawberries, sliced
4 fresh mint leaves
½ cup coconut water
1 scoop of Tropical Punch Super Youth Collagen
2 ounces light rum
Sparkling water for topping
Steps
In a tall glass, muddle the lime, strawberry, and mint leaves.
In a separate glass, mix the coconut water and Super Youth Tropical Punch and blend until mixed.
Add the coconut water and Super Youth mixture into the glass with muddled lime, mint, and strawberry. Add the rum and gently mix to combine.
Add ice, top with sparkling water, and garnish with strawberries and a sprig of mint.