Jump To Recipe
I'm a sucker for a good smoothie. The sweet and colorful swirl of all my favorite fruits and veggies, refreshingly chilled and packed with nutrients is without question my perfect start to the day.

Berries abound in most recipes, though many blender ninjas prefer the wholesome goodness of a great green smoothie. I used to stick to one of these (or an even blend of fruits and veggies both) as a means of staying healthy and giving myself a boost of nutrients, until I realized I could have the richness of chocolate without the excessive calories or refined sugar.

The following guilt-free chocolate smoothie recipe is full of delicious chocolate taste, thanks to naturally flavored chocolate collagen. It's one of my favorite morning go-to's and is extremely simple to make. So if you have a sweet tooth but want to stay healthy, consider this your secret culinary weapon.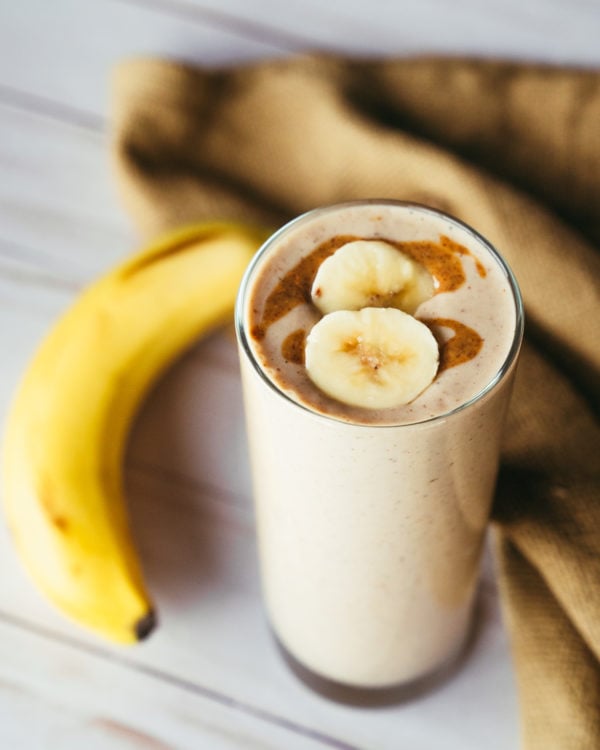 What Is Chocolate Collagen?

Considered a structural protein, collagen (also referred to as collagen peptides) is essential for creating the "scaffolding" of connective tissue throughout our bodies. 25-35% of all animal protein is collagen, and there are numerous sources you can get it from.

Chocolate… is not one of them. But, it just so turns out that collagen and natural chocolate flavor make a perfect match. Like naturally flavored protein powders, chocolate collagen is a supplement powder, enhanced with just enough natural flavor to bring out the chocolate taste but leave out the fat and sugar.
For this recipe, we'll be using the Super Youth Chocolate Cake Collagen peptides, arguably the best collagen blend available for making a delicious and healthy chocolate smoothie.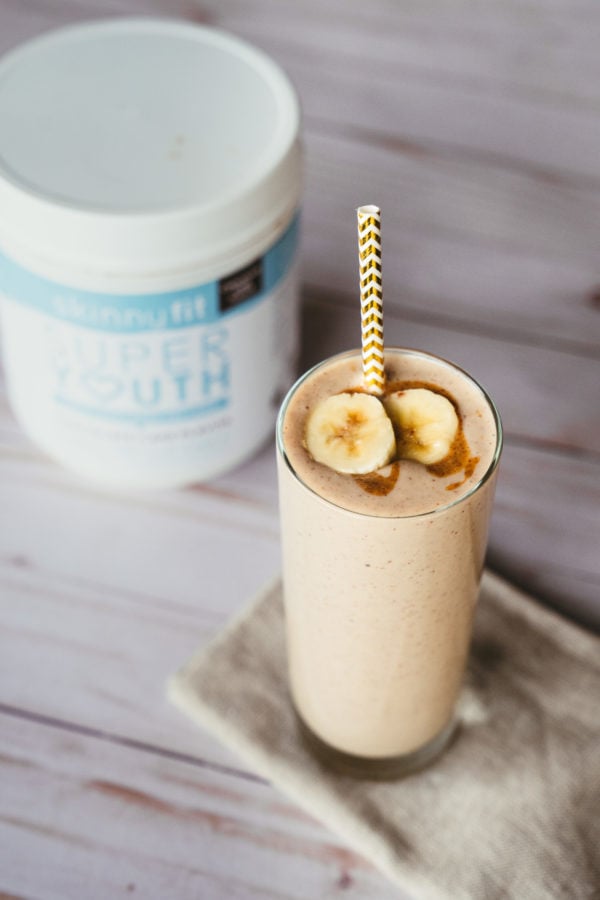 Chocolate Collagen Smoothie Health Benefits

A big advantage for Super Youth Chocolate Cake collagen is that it's made up of 5 different collagen types from 4 premium sources. And, it dissolves completely when mixed with almost any liquid, making it an obvious choice for nutrition on-the-go.
But it also offers some significant benefits for sustaining an overall healthy lifestyle. Collagen naturally manages, and in some cases reverses, signs of aging and physical deterioration, which is why I choose it as a replacement for chocolate syrup or cocoa powder in this and every chocolate smoothie recipe.
Great For Joint Health: Because it's absorbed by joint tissue, collagen helps to reduce inflammation. It's even been shown in studies to improve mobility and decrease pain. (1) Having spent my entire life beating up my body in all forms of fun activities from football to skateboarding, my joints need as much help I can give them.
Healthier Skin & Hair: Our skin and our hair show signs of aging more than any other part of the body. A collagen smoothie can help rebuild aging cells, working to maintain youthful feeling skin. Now, studies show it also goes a long way in helping to reduce wrinkles on your face. (2) 
Good For The Gut: Good gut bacteria are crucial to living and feeling well. Collagen peptides help regulate your body's gut-bacteria cultures, as well as give your immune system a boost and keep your gastrointestinal tract intact. (3)
Nutritional Ingredients: Simple, scrumptious, so healthy! There may only be 4 ingredients in this recipe, but they're 4 fantastic foods for your body. Almond milk gives your collagen smoothie a creamier texture while loading it with vitamin D and calcium. Bananas help you stay hydrated with their potassium goodness. And peanut butter is great source of both protein and oleic acid (one of the good fats).
Choco-licious: Sure it makes a healthy chocolate smoothie, the best perk about chocolate collagen is the just-right chocolate taste.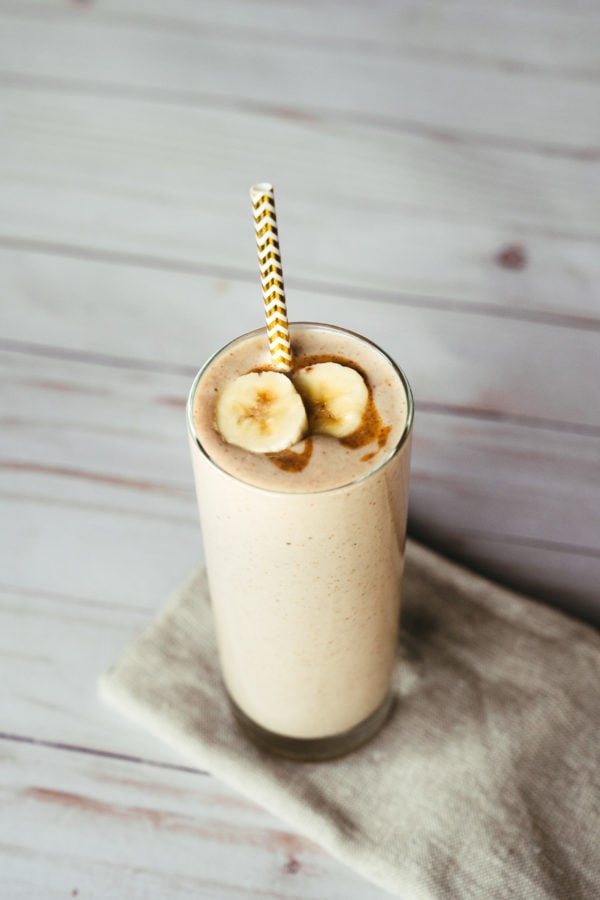 What Can You Mix With Chocolate Collagen

Infused with a bursting-yet-balanced natural chocolate flavor, Super Youth Chocolate Cake Collagen opens the doors to an endless array of mixological options just waiting for you to experiment with. As mentioned above, it's an obvious (and healthy) substitute for cocoa powder in drinks like hot chocolate or desserts like chocolate muffins.
Here are a few other mixing ideas to try:
Coffee
Milk or milk substitutes (for chocolate milk) 
Cereals 
Yogurt 
Parfait
Fruit salads (sprinkle lightly) 
Oatmeal 
Pancake batter 
Cookie dough
Cake batter
Protein powder
Water
But, hey, you're here for the healthy chocolate smoothie, right? So, let's get to it! Before we dive in, there are a couple of things worth noting, at least for anyone who's not a smoothie connoisseur. 
Firstly, I recommend serving your smoothies cold, which is why this recipe calls for frozen bananas. You'll also want to make sure your almond milk has been sitting in the fridge long enough to chill. This way, you don't have to worry about chunking up or watering down your smoothie with ice.
Second, remember that almond milk comes in a variety of flavors and levels of sweetness. To keep things healthy and not overly rich, you'll want to use unsweetened almond milk. But, don't feel like you have to limit yourself! If you like going off the beaten path, experiment with other flavors such as vanilla or coconut almond milk.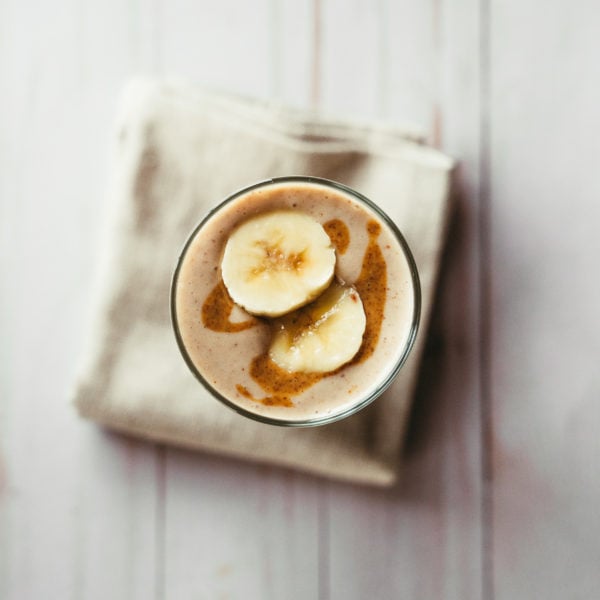 Collagen Chocolate Smoothie Recipe
Lose weight and feel healthier with this super simple chocolate smoothie recipe packed with nutrients and the age-defying benefits of collagen!
Prep Time: 5 minutes
Cook Time: -
Total Time: 5 minutes
Serving Size: 1 smoothie
Ingredients
1 cup almond milk
1 scoop Super Youth Chocolate Cake collagen
1 frozen banana
1 tbsp nut butter
Steps
Mix all ingredients in a powerful blender and mix until creamy and smooth. Enjoy!