Jump To Recipe
Forget the days of not knowing what to bring to a holiday get together. Nothing screams holiday like the sweet delicious taste of peppermint bark. Whip up this recipe from scratch and wow your friends and family with a dark chocolate masterpiece that just so happens to include an extra special ingredient… collagen!
This blog will outline everything you need to know so you have all the information on how to make peppermint bark.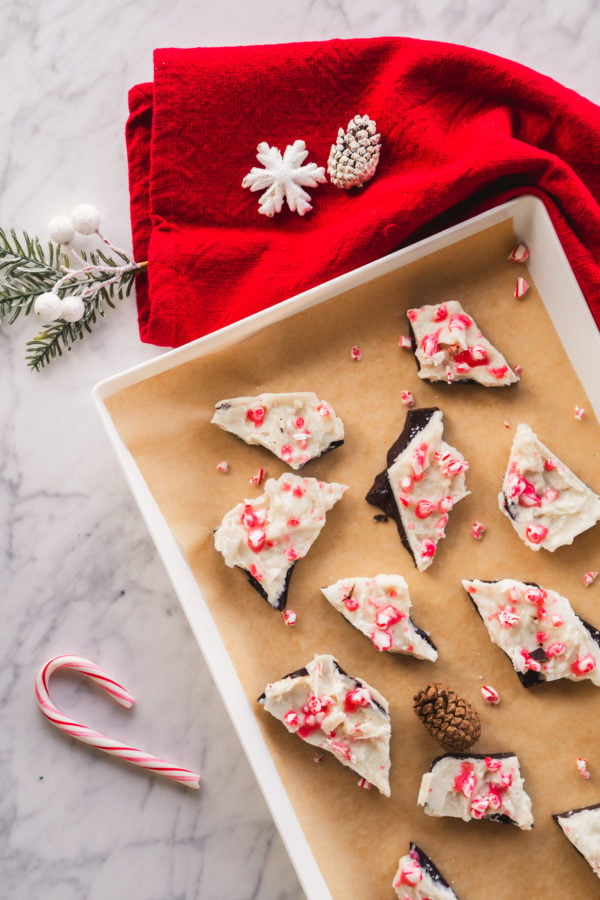 5 Ways This Peppermint Bark Can Spread Holiday Cheer

Here's your chance to truly make it the most wonderful time of year and to put a huge smile on the face of anyone who gets the chance to sample your peppermint bark. This easy recipe is perfect for a cozy night in or makes for the perfect holiday offering to your favorite neighborhood or addition to the company Christmas party! 
If I haven't convinced you yet that this is THE go-to dessert to prep this holiday, here are 5 more ways that peppermint bark can help stir the giant pot of holiday cheer. 
Peppermint bark makes an excellent hostess gift at holiday parties: Holiday parties are excellent occasions to show up with a goodie. It's always en vogue to bring a hostess a gift that shows your gratitude and appreciation. Even if they haven't asked for anything, coming with flowers, wine, or a delicious dessert for everyone to enjoy is always welcome. Remember that the hostess put a lot of time, energy, and thought into not only buying the food and beverages but ensuring that all of the guests have a great time. While you by no means need to match the price point of the food and beverages, showing up with a holiday treat will put you in the good graces of the hostess and leave a positive lasting impression.
This peppermint bark is guilt-free: Everyone can keep their weight loss goals while breaking off a piece of this guilt-free collagen peppermint bark. As you start exploring with different recipes this holiday season, you may soon call this one a family favorite. Trust me, your sister's boyfriend won't believe that it has collagen in it. And he definitely won't believe that he's been missing out on the benefits of collagen this entire time. Benefits, like reversing signs of aging, improving bone and joint health, building stronger hair, teeth, and nails, and helping to improve the gut microbiome, will have everyone crowding around the bark asking for more! This is definitely a great recipe to add to the holiday recipe book. 
Make a peppermint bark recipe as a family: Round up the kiddos or the hubby, ask Alexa to play your favorite holiday jams, and get to baking! No matter what you're whipping up in the kitchen, making a holiday goodie with your family is a wonderful way to bond and share quality time together. Plus, the next time someone asks how to make peppermint bark, everyone in the family will know!
Drop off a tin of peppermint bark at the local nursing home: In the crazy hustle and bustle of the season, take some time to offer extra love and kindness to those less fortunate. Consider dropping off a tin of delicious peppermint bark that could brighten up a person's world. Take the whole family along, so you can all experience the wonderful gift of giving to others. 
Host a holiday party: There's no easier way to get into the holiday spirit than by making some cookies and peppermint bark and opening up your space to friends, family, neighbors, and colleagues. It doesn't have to be a big event—just a time to get together and share stories and yummy food! You can even give a demonstration on how to make peppermint bark, so they leave with the knowledge of how to whip up this holiday favorite too!
How to Make Peppermint Bark

A well-done peppermint bark recipe is like liquid gold. If you've ever bitten into a piece of delicious peppermint bark, you know this dessert is always a huge hit. That's why we are sharing our FAVORITE peppermint bark recipe with you. Not only does this recipe include dark chocolate chips, but it also features our signature Super Youth Chocolate Cake collagen. 
We've added collagen to the recipe because it helps revv up the chocolate flavor and adds a little extra *something*. Something being incredible health and beauty benefits for your body. Collagen can help with:
Rebuilding aging cells so you feel and look younger
Restoring gut health and improving the gut microbiome
Supporting healthy joints and bones so you can stay active
Regrowing thinning hair and strengthening hair and nails
Helping you maintain a healthy weight
It's easy to get caught up in the holiday stress of parties, gift-giving, and cold weather. Don't forget: Making time to bake is a gift in and of itself! For you, baking can be an act of self-care. It's a great way to destress and still have fun. Why not use this magical time of year to bust out that holiday spirit and make a dessert that will bring a smile to everyone who tries it? You can easily give the gift of a dessert made with love and perk up your holiday spirit in a healthy, productive, and fun way. 
RELATED: How To Make Simple & Healthy Gingerbread Cookies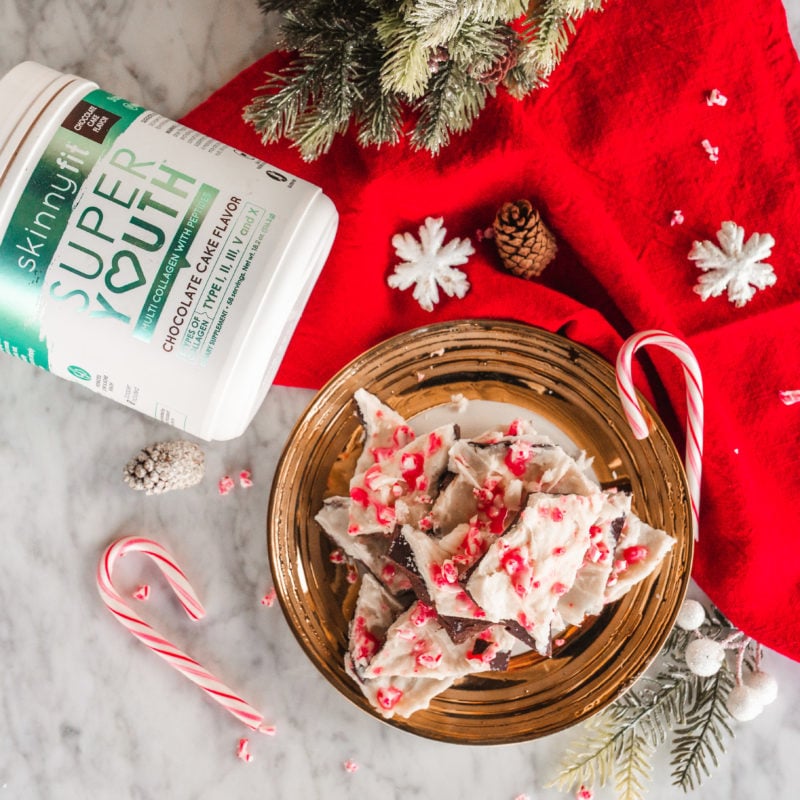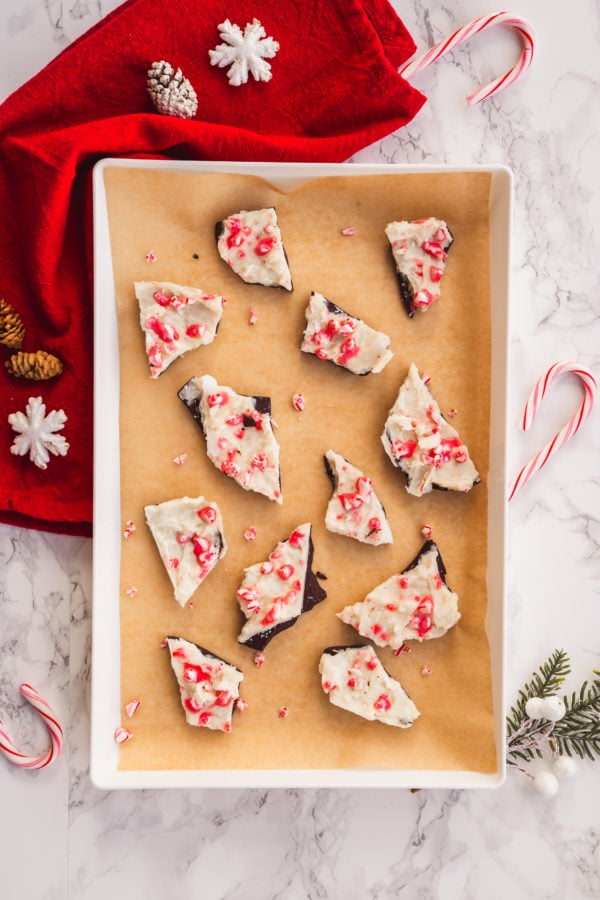 Chocolate Peppermint Bark Recipe
This simple and delicious peppermint bark is going to be your go-to, guilt-free, guilty pleasure this holiday season! Not only is it bursting with holiday flavors, but its actually healthy! Discover our secret ingredient...
Prep Time: 20 minutes
Cook Time: 2 hours
Total Time: 2 hours 20 minutes
Serving Size: 15 servings
Ingredients
1 cup dark chocolate chips
2 scoops Super Youth Chocolate Cake collagen
½ cup coconut oil softened
½ cup coconut butter softened
1 tbsp pure maple syrup
½ tsp peppermint extract (have peppermint flavor)
1 tsp vanilla extract
2-3 candy canes or crushed peppermint candies
Steps
Place chocolate chips in a double boiler or a glass bowl over a boiling pot of water and melt until the chocolate is a smooth consistency. Stir in Super Youth Chocolate Cake until full mixed.
Pour melted chocolate into an 8×8 inch pan lined with parchment paper.
Place pan in the freezer for 10 minutes to let chocolate solidify.
Slightly melt the coconut oil and coconut butter until it's a thick icing consistency. Add remaining ingredients and whisk together.
Take the pan out of the freezer and spread coconut mixture over the chocolate using a rubber spatula.
Top with crushed candy canes or peppermint candies. Place in the freezer to set completely (about 2 hours)
Once set, remove from the freezer and break into pieces.
Store in freezer.